In-kind contributions to IMI projects – How does it work?
The Innovative Medicines Initiative (IMI) is a public private partnership and has therefore a different funding model from other collaborative research consortia in Horizon 2020. Here's how it works:
IMI projects are implemented by public-private consortia that consist typically of several companies and several public partners (such as academia, governmental and non governmental organisations, SMEs, etc.).

Industry does not receive any public funding (EU grants). The cost of resources invested in a project (time of experts, samples, studies, consumables, subcontracted work, cash, etc.) is not claimed back – it is EFPIA's in-kind contribution to IMI projects. You can follow the complete funding flow as explained in our infographic here.
An amount that equates effectively with the industry contribution is given as cash grants to public partners in the consortium to fund the cost of the work that public partners undertake for the project. So, for example, if the contribution of industry partners is worth €5 mln, a €5 min grant will be paid to public partners by IMI.

Are in-kind contributions real; how are they reported and checked?
Companies report all costs in exactly the same way as the grantees. The costs should to be traceable in companies' books and the companies' financial reports need to checked and signed by independent auditors, prior to their submission to IMI.

Companies' financial reports are then scrutinised by the IMI Office, including through on-the-spot checks. To learn more about this process, take a look at our detailed infographic.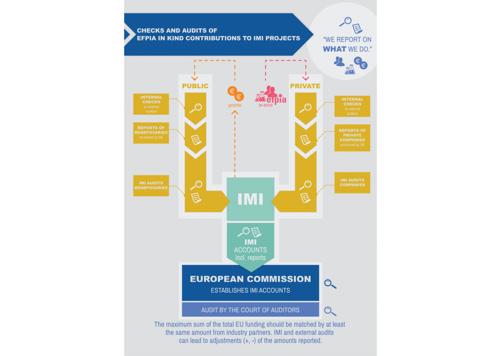 So even if companies do not receive public funding from IMI, their reporting obligations are the same as for public partners. The only difference is that companies are not directly audited by the Court of Auditors, because its role is to check how EU funding is used. The CoA however checks IMI accounts, which comprise companies' financial reports.

Why do companies not receive funding?
This is because they define the topic texts (in line the IMI2 strategic research agenda). What's more, industry does not choose with whom it might work on a project – public partners are selected by an independent panel through a competitive process. This model works effectively for the type of projects and collaborations that IMI pioneers.

One size does not fit all: the Commission has a number of different instruments to support research and development, each of them tailored to a specific need or a specific facet of the challenge at hand. IMI is just one model amongst many, and this diversity is fantastic for European science and innovation.

If you would like to know more about the funding of IMI and in-kind contribution made by companies, please

read our Q&A here

as well as information on the IMI website, on budgetary control. Should you have any further questions, please do not hesitate to contact the IMI communications team at infodesk@imi.europa.eu