Stimulating the development of new medicines for children
#WeWontRest in our commitment to working with our partners in paediatric research to continue to discover, develop and deliver new medicines for children
The research and development of new medicines for children is so fundamentally important to us all - for every child, for every family affected by childhood illness, for our clinicians, healthcare systems and for society as a whole. It is why our industry is fully committed to integrating paediatric research in its medicine development programs.  
With 600 new paediatric medicines in development, we won't stop pushing the boundaries of what we thought was possible to help children stay healthy

Over the last decade we have seen exciting new treatments or even cures for diseases impacting on children such as HIV, Hepatitis C, rheumatoid arthritis or certain cancers.  These breakthroughs have been enabled by rapidly advancing science and the European Paediatric Regulation which created a framework to support the development of new medicines for children. Since its inception in 2007, there have been 296 new medicines and indications for treating children. New formulations have been developed to enable children to take their medicines more easily and research continues in this innovative area.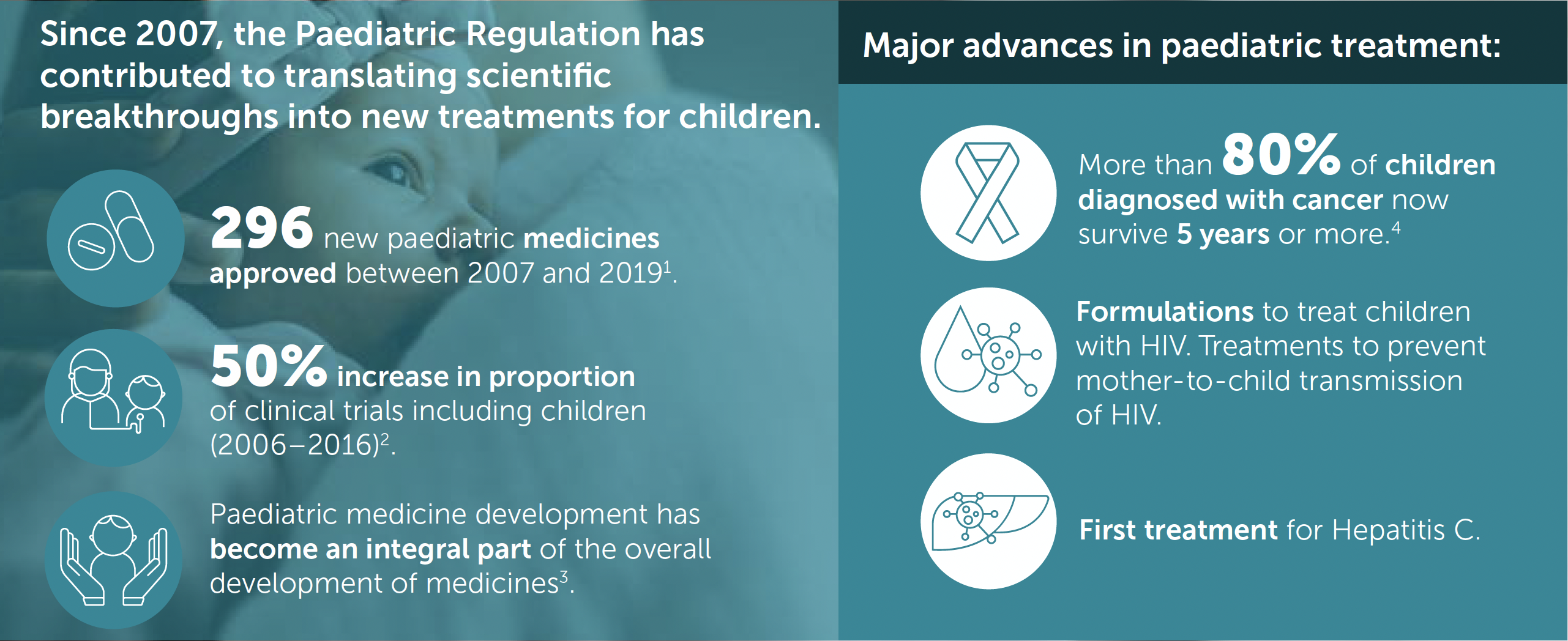 The paediatric research landscape continues to evolve, supported by this important piece of legislation. The number of paediatric development programmes is increasing, there is a growing paediatric research infrastructure and overall more clinical trials to support regulatory submissions. In fact the proportion of paediatric clinical trials since the legislation came into force has increased by 50% between 2007 and 2016 (from 8.25% to 12.4% of all trials conducted in the EU).

We mustn't stop here. More can be done to increase the number of medicines available for children and we are currently working with other stakeholders to address paediatric needs. 

Global collaboration is key. Given the limited number of paediatric patients that can be included in studies, developing medicines for children must be a global exercise. As an industry we stand ready to increase the level of partnership and collaboration with the wider paediatric research community and across other life sciences sectors through programmes like the Innovative Medicines Initiative (IMI).


Towards a 'child-centric' approach
The EU Paediatric Regulation has successfully stimulated the development of new medicines for children. Existing incentives and rewards remain essential to stimulate innovation, but we know that more can be done to foster research in disease areas a affecting exclusively children, specially where an unmet medical need exists.
The upcoming review of the Paediatric Regulation provides an opportunity to evolve from an 'adult-centric' approach to a 'child-centric' approach. EFPIA proposes to:
Address paediatric Unmet Medical Needs (UMN) via Mechanism of Action (MoA) PIPs
EFPIA is proposing a framework for the "MoA PIP", based not on the adult indication, but on a paediatric unmet medical need. In other words, the PIP will be designed having in mind how the product works (its mechanism of action) and what unmet need in children it might be able to address. This would mean that a medicine developed for an adult disease may also be studied in a different childhood disease because both diseases have the same cause, and the treatment may work for both. This child-centric PIP approach implies significant efforts and scientific challenges. An additional reward for developers would be fair and appropriate.



This concept requires a revision to how a condition is defined.
Definition of Condition based on current scientific knowledge
Thanks to advances in science, we are now able to understand the pivotal causes of many diseases. This is a game changer to discovering new treatments: many medicines are now developed to target the cause of a given disease. The mechanism of action (MoA) of such a medicine can make it suitable for use in more than one condition if each condition can be shown to be associated to the same pivotal cause. We therefore propose to adjust how a disease (or a condition) is defined, to include the cause of the disease, where this link is scientifically proven based on the most up to date evidence.

Better integrate paediatric development discussions into the overall regulatory development dialogue with regulators
Discussions with regulators should also include the data generation needs for paediatric patients. Usually, these discussions also need input from other regulators such as the FDA to achieve alignment on a global paediatric programme.
Can we develop better medicines for children faster? Listen to our podcast