Back Innovation, Boost Access
Innovation is only meaningful if patients get access to it.
The access situation in Europe
Millions of people across Europe are not always able to access the scientific breakthroughs when they need them. Data from EFPIA's Patients W.A.I.T Indicator show that market authorisation and patient access can vary from four months to 2.5 years, depending on the country and region. Patients in Northern and Western Europe can generally gain access to new medicines between 100 and 350 days after Marketing Authorisation is granted. For people living in Southern and Eastern Europe, it can take between 600 and 850 days before a medicine becomes available.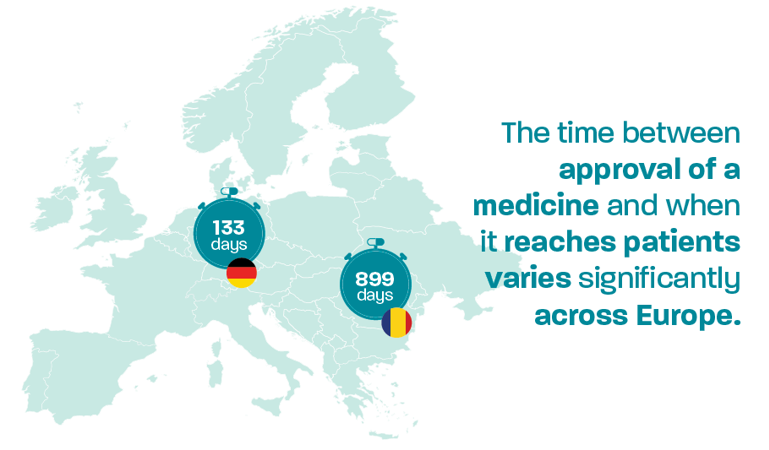 Understanding the issue
The reasons for these delays are multifactorial. In a recent analysis, EFPIA established 10 interrelated factors that were causing access to medicines to be delayed. They range from slow regulatory processes to late initiation of market access assessment, to duplicative evidence requirements, to reimbursement delays, and local formulary decisions. By identifying these issues, it is clear that no one stakeholder can fix these problems alone. EFPIA is therefore supporting a multi-stakeholder approach to explore a range of initiatives, including a process that would better align value and ability to pay, more efficient value assessments of new vaccines and therapies as well as proposals to ensure solidarity across EU member states.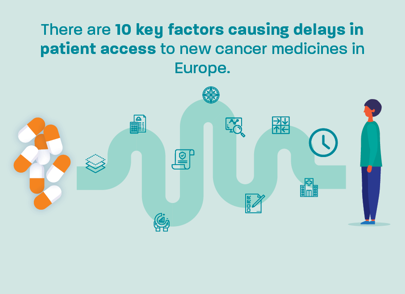 Bringing innovative solutions
EFPIA's members have committed to file for pricing and reimbursement (P&R) as soon as possible but certainly within two years after gaining Marketing Authorisation as they intensify their efforts to accelerate patient access to their latest medicines. Companies' progress against this commitment will be tracked in a portal that will systematically collect information on the timing and processing of P&R applications across the 27 Member States of the European Union. The goal of this new tool is to increase transparency around market launches and to gain a deeper understanding of the kinds of solutions stakeholders will need to develop in order to overcome key access hurdles.
The pharmaceutical industry is also proposing new pricing structures in a bid to address barriers related to affordability.
EFPIA's proposal for an Equity-Based Tiered Pricing framework is aimed at ensuring that the price countries pay for medicines reflects their ability to pay for them. For this to happen, the European Commission and EU Member States will need to amend External Reference Pricing systems. In addition, rules related to the EU internal market will also have to be adapted to prevent parallel trade; buying medicines at lower prices in certain countries and selling them on in markets where they can demand a higher price.
EFPIA and its members are also proposing a greater push towards novel pricing and payment models that will make it easier for Member States to introduce highly innovative medicines, such as cell and gene therapies. The potential clinical benefits of these new therapies are enormous, but limited datasets and a lack of long-term experience with these therapies are not compatible with today's reimbursement systems.
But these challenges could be surmounted by making greater use of outcomes-based payment models and subscription models, as well as supporting sustainability by paying for medicines over time. Moving forward with more flexible pricing solutions would allow decision makers to manage uncertainty around outcomes over the longer term, whilst providing swift access to lifesaving and life-changing medicines.