Because we can't afford not to: Let's make a joint health check for CVD and diabetes happen
Join us in the European Parliament from 28 February - 2 March for a week of insights, events and perspectives from people living with diabetes and CVD, healthcare professionals, policymakers, researchers and industry
Let's make a joint health check for CVD and diabetes happen
European Parliament
Diabetes and cardiovascular diseases (CVD) rank among the top causes of preventable and premature death in Europe. Currently over 1 in 3 adults live with undiagnosed diabetes, and between 20 and 40% of heart attacks occur in people previously undiagnosed with cardiovascular disease. 

We must do better. Early detection can save lives and keep people healthy. In addition, one third of people living with diabetes develop CVD, which is why a joint health check is so crucially needed.





Why a joint health check? Click here to find out more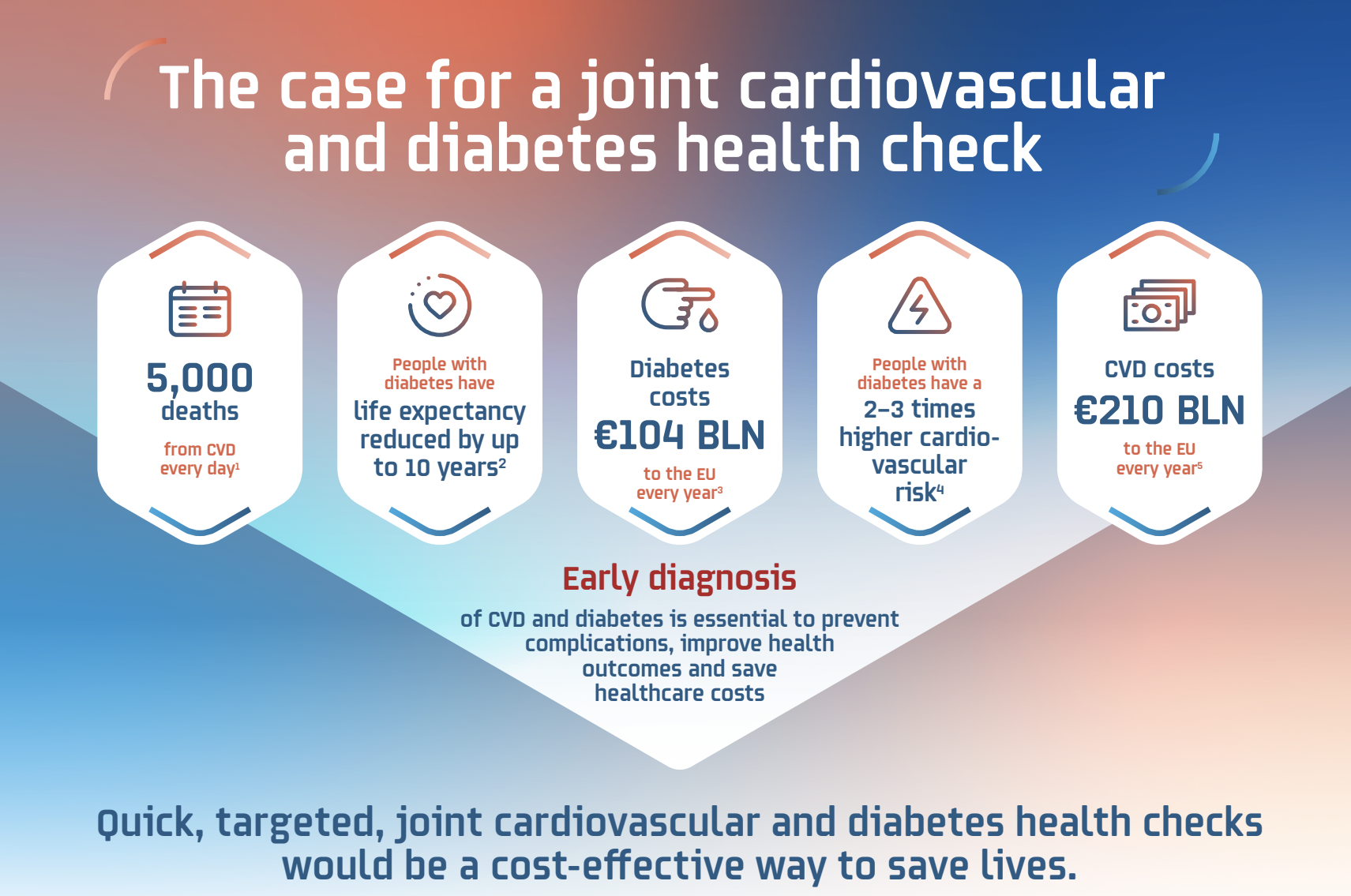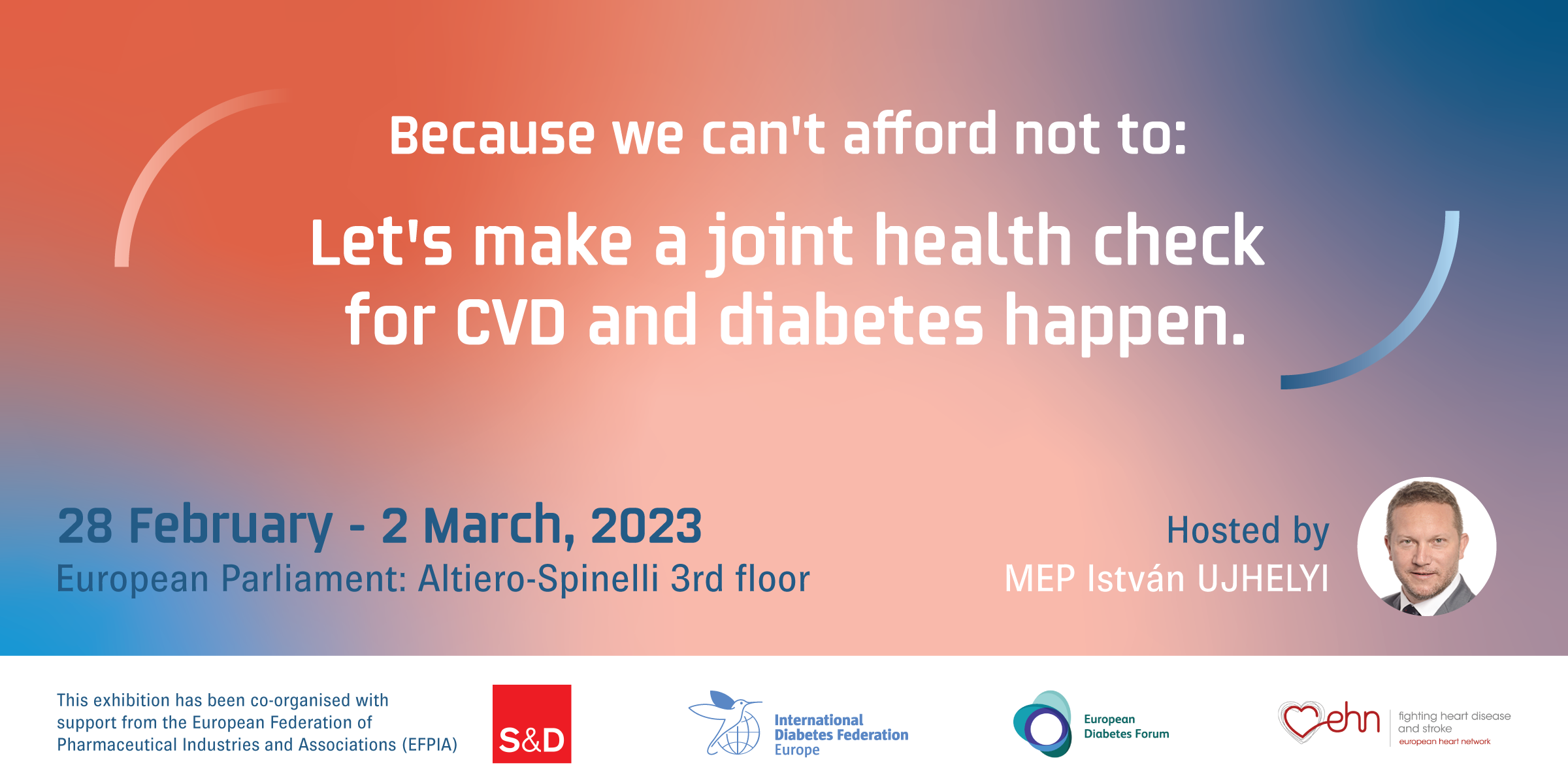 Join us in the European Parliament from 28 February - 2 March for a week of insights, events and perspectives from people living with diabetes and CVD, healthcare professionals, policymakers, researchers and industry with one goal: limiting the serious impact of CVD and diabetes on Europeans and healthcare systems.

The opening ceremony will take place on 28 February, 12:30 - 13:00: 

Add to Calendar


(Altiero-Spinelli, European Parliament, 3rd Floor) with participation from:
MEP István Ujhelyi (S&D, HU)

MEP

Marc Angel, 

European Parliament Vice-President 

Prof. Stefano Del Prato, Chair, European Diabetes Forum (EUDF)

Birgit Beger, CEO, European Heart Network (EHN)
The following experts will be available to discuss the exhibition and offer their views at the times indicated below:

Tuesday 28 February, 14:00 - 14:45: 
Add to Calendar
MEP Christel Schaldemose (S&D, DK) 

Christian Thonke, Chair, EFPIA Cardiovascular Health Platform 

Magdalena Daccord, Chief Executive, FH Europe

CVD Patient Ambassadors: Athanasios Pallidis, John-Paul Corry, and Danique van den Bogert
Wednesday 1 March, 10:00 - 10:30: 

Add to Calendar
MEP Sirpa Pietikäinen (EPP, FI)

Prof. Dr. Francesc Xavier Cos Claramunt, Chairman, Primary Care Diabetes Europe (PCDE)

Prof. Chantal Mathieu, Vice-Chair, European Diabetes Forum (EUDF) and President EASD (European Association for the Study of Diabetes)
MEP Nicolás González Casares (S&D, ES)

Prof. Ungan, WONCA Europe Executive

Prof. Dr. Peter Sinnaeve, Cardiologist, KU Leuven

Birgit Beger, CEO, European Heart Network (EHN)
Thursday 2 March, 10:00 - 10:30: 

Add to Calendar
MEP Franc Bogovic (EPP, SI)

Javier García Martínez, Diabetes Advocate

Becky Furuta, Team Novo Nordisk athlete & ambassador

Sabine Dupont, Director, Strategy and Policy, IDF Europe
MEP István Ujhelyi (S&D, HU)

Prof. Panos Kanavos, Associate Professor of International Health Policy, London School of Economics

Elisabeth Dupont, Regional Manager, IDF Europe 

Maurizio Guidi, Chair, EFPIA Diabetes Platform
Please note that you must be a holder of an access badge to enter the European Parliament in order to visit the exhibition