The Women's Brain Project webinar series
Virtual event
EFPIA is delighted to announce the forthcoming webinars of the Women's Brain Project.
The Women's Brain Project (WBP), is an international non-profit organisation (based in Switzerland) studying sex and gender determinants of brain and mental health to achieve precision medicine. 
EFPIA has already been involved in WBP's regulatory roundtables on advancing sex and gender precision medicine. These invitation-only events brought together key regulators and other stakeholders to promote change in the regulatory space at the international level and to promote sex and gender-specific measures in clinical trials, drug development and policy at large.
We're now opening up the following webinars for a broader audience:  
Webinar 1 - Introduction to the Women's Brain Project, vision and mission, overview of WBP's work – Monday 20th June 2022, 14-15 CET
Register here for this webinar.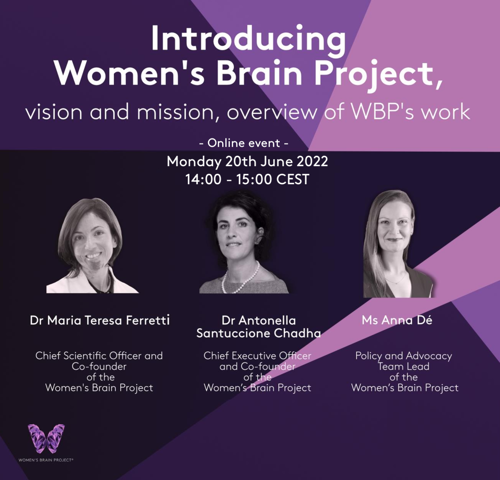 Webinar 2 - presenting the results of a number of WBP projects, such as, the Sex and gender-specific Patient Journey: Alzheimer's disease; and the Economist Impact project - Sex and gender differences in Neurological conditions - Thursday 6th October 2022, 14-15 CE
Webinar 3 - Sex, gender and the brain: Towards an inclusive Research Agenda

 - 

Monday 13th

 

March 2023, 15:30-16:30 CET. 
Watch this space for further details!
We hope you can join us at these webinars! It's a great opportunity to learn more about WBP's work and how you can get involved as industry representatives.