Clinical Trials Europe
Secure a free pass* to Europe's largest event dedicated to streamlining clinical trials and improving patient outcomes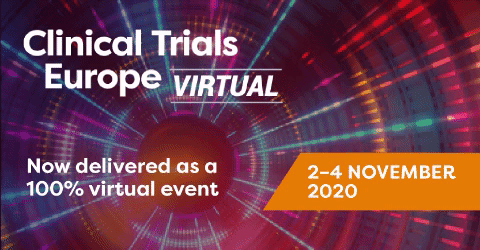 On 2-4 November 2020, hundreds of leading

clinical

industry professionals will be tuning-in live for the 19th annual

Clinical

Trials

Europe

, taking place virtually in GMT Time Zone. Register for a free pass* today to join them for the latest discussions surrounding the

clinical

developments of COVID-19 and the future

clinical

trials

landscape. And, gain access to 6 conference streams divulging the latest practical insights and success strategies across

clinical

partnerships & outsourcing, operations, and technology, to get the information you need to streamline your

clinical

trials

and improve patient outcomes.
Exploring the latest strategies, tools and innovative approaches, Clinical Trials Europe digs deep into the practical solutions to every day challenges as well as those that are more unique, to help you identify new and tried-and-tested approaches to better fulfil your clinical trial activities.
Hear from Pharma, Biotech, CROs, Patient Groups, Suppliers, Technology Providers and Consortiums for the rare opportunity to get a comprehensive industry update from multiple perspectives, expand your professional network with 9+ hours of virtual networking, and tackle your challenges head-on.
The virtual platform will enable you to:
- Attend all 6 conference streams and plenary sessions across 3 days
- View the full attendee list
- Schedule one-to-one video meetings with fellow attendees
- Participate in interactive panel discussions and live Q&A
- Browse the virtual exhibition hall for new solutions and connect with solution providers
- Catch up on the presentations you missed with 30 days of on-demand presentation access after the live event
And more!
All registrants will gain full access to all of conference streams, so be sure to take a look at the full agenda to see what they have lined up for you!
*Free pass terms and conditions:
- All free pass registrants will be sent a short survey prior to the event to complete as part of their registration following their application. This will need to be completed in order for us to provide you with access to the virtual event.
- Free pass not applicable to supplier / vendor / CRO / technology / solution provider companies or consultants. Informa Connect Life Sciences will verify whether you are eligible for this free pass when your registration is processed. In the instances where you are found to be booked for a free pass and do not qualify, we will notify you and cancel your delegate booking, and assist you in connecting with our sponsorship and exhibitions team ( NMatthews@informaconnectls.com / +44 (0) 20 337 73905 ) who will be able to discuss opportunities for participation with you.
Still unsure if you qualify? Contact Jessica.Purnell@informa.com who will be able to inform you as to the correct pass option for you.