Continuing the Conversation on Digital Transformation
DoubleTree by Hilton, Brussels & Online
The European Patients' Forum is pleased to announce the EPF Congress 2022 – Continuing the conversation on digital transformation - will be held on 23rd and 24th of June 2022 in a live-streamed format. This event will take place at the DoubleTree by Hilton, set in a prime location in the heart of Brussels, Belgium, with the option of online participation for those who wish to join remotely.
Having in mind the experience and lessons learned from the 2021 online Congress, this year's event will include a wide audience of patient representatives, policymakers, health systems experts, healthcare profession representatives, academics, and industry representatives, from Europe and beyond.
The 2022 Congress is dedicated to exchanging ideas and good practice in patient empowerment and involvement, moving forward on the much-needed policy commitments in this area, gaining a greater and genuine understanding of the wealth of experiential knowledge and expertise that patients bring to health systems' design and strengthening, and much more.
EPF hopes that the dialogue initiated during the Congress will bring coherence to the concept of patient involvement in digital health, while extensively exploring patients' needs in terms of medical data sharing and security, data-driven personalised healthcare, AI usage in healthcare, and the role of new technologies in health literacy.
Join us and hundreds expected to exchange on the path forward for integrated digitalised healthcare on 23 and 24 June for two days of learning, exploring, testing ideas, and co-creating solutions.
More details, registration and preliminary programme are now available on our dedicated website www.epfcongress.eu.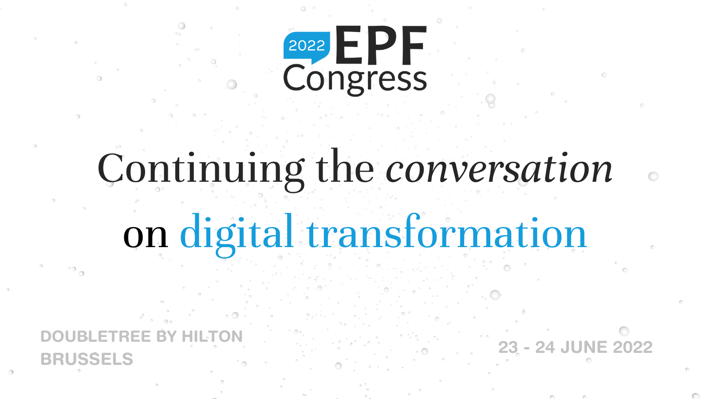 About
The European Patients' Forum (EPF) is an umbrella organisation that works with patients' groups in public health and health advocacy across Europe. We currently encompass 78 patient organisations representing 21 countries and an estimated 150 million patients across Europe, making national coalitions of patients and specific chronic disease groups visible at the EU level. More information on our work can be found on our website: www.eu-patient.eu.