Healthier Hearts
Stockholm + digital
Cardiovascular disease (CVD) is the leading cause of death in Europe, despite medical advances contributing to a drop in overall mortality over the past decades. While CVD accounts for about 20% of all premature deaths, the World Health Organization estimates that about 80% of CVDs are preventable. A key question to maintain future sustainable health care systems will be how to reduce premature and preventable deaths caused by cardiovascular diseases.
In the context of the Swedish Presidency of the Council of the European Union, this event will provide a platform for dialogue and best practice sharing on how to tackle cardiovascular disease in Europe and identify key policy actions on EU and member state-level.
Register here.
Date: March 22, 2023
Time: 13.00–15.30, a light meal will be served between 12.30–13.00
Venue: 7A Posthuset, Vasagatan 28, Stockholm + digital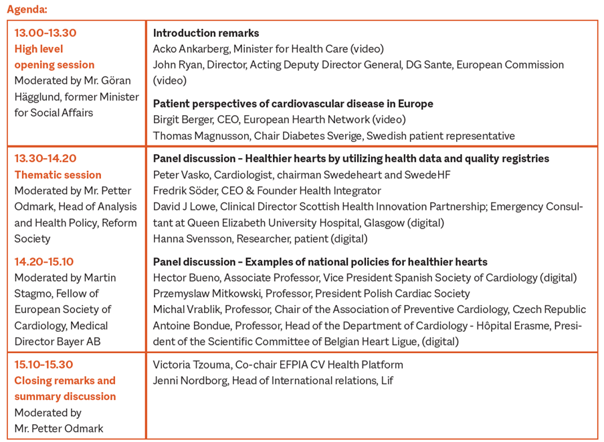 This event is organized and funded by Amgen, Astra Zeneca, Bayer, Novartis and Novo Nordisk
with the support from EFPIA and in collaboration with Lif Sweden.