Women's Brain Project webinar II
Virtual event
We are delighted to announce the forthcoming webinar of the Women's Brain Project.
The Women's Brain Project (WBP) is an international non-profit organisation (based in Switzerland) studying sex and gender determinants of brain and mental health to achieve precision medicine. 
This is a follow-up webinar to the introductory webinar that took place on 20th June 2022.
This second webinar will present the results of a number of WBP projects, such as the Economist Impact project - Sex and gender differences in Neurological conditions; and the Sex and gender-specific Patient Journey: Alzheimer's disease.
It will take place online on Thursday 6th October, 14:00-15:00 CEST.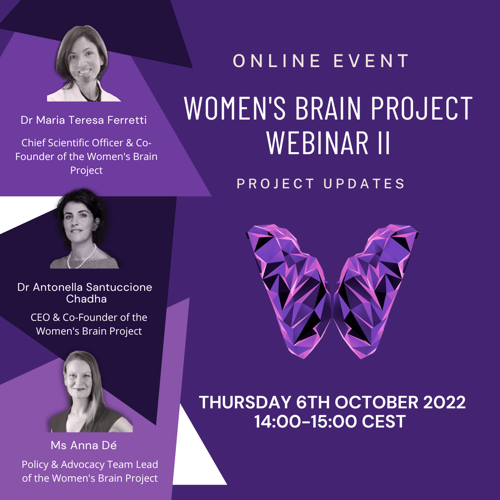 We hope you can join us! It's a great opportunity to learn more about WBP's work and how you can get involved.