From question to publication in 5 days - How EHDEN and OHDSI change medical evidence generation through open science
Webinar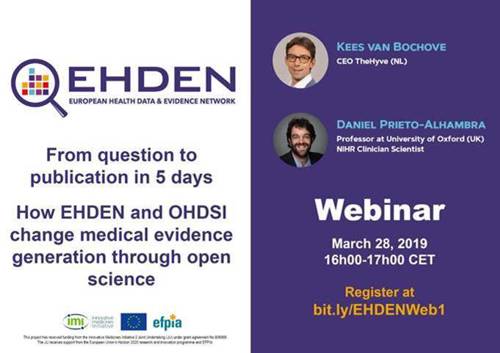 The 1st EHDEN webinar entitled "From question to publication in 5 days - How EHDEN and OHDSI change medical evidence generation through open science" will take place on the 28th of March (16h00-17h00 CET). This is the first in a series, and a subsequent webinar will be held on 10th April outlining the EHDEN project.
In this 1st webinar, Kees van Bochove (TheHyve) and Daniel-Prieto Alhambra (University of Oxford) will discuss the EHDEN and OHDSI Study-a-thon which was organised at the University of Oxford in December 2018. They will explain the concept of this 5-day meeting and how they were able to go from question, to cohort characterisation, to data analysis and ultimately to evidence generation in only 5 days.
You can register for this webinar here.
For more information about EHDEN, please visit the website.