Ebola vaccine Deployment, Acceptance and Compliance (EBODAC) – the simple story (Guest blog)
EBODAC: Supporting the Ebola vaccine studies in Africa
The largest Ebola outbreak to date took place in 2014-2016 in Western Africa. As the number of deaths began to grow and authorities began to realize that this could become a threat to public health, a call to action was raised by the Innovative Medicines Initiative (IMI). In record time, the EBOLA+ program was launched, including the EBODAC project.


EBODAC's four partners (London School of Hygiene & Tropical Medicine, Janssen Pharmaceutica NV, Grameen Foundation & World Vision of Ireland) finalized their description of action and in a unique prioritized review, their proposed work plan was endorsed with a total project budget of 25.8 million Euro.


Supporting the Ebola vaccine studies in Africa
EBODAC's first task was to support the clinical study with the Janssen vaccine in Sierra Leone, which led to unique challenges and opportunities.  We entered a community that had never experienced a vaccine clinical trial before, there was a lot of fear due to the Ebola outbreak, we were faced with issues of mistrust, rumours, limited literacy not to speak of challenges for installing any sort of technology in a setting where electricity supplies and internet connectivity were neither guaranteed nor widespread.

EBODAC's anthropologists performed formative research of the region and built the landscape of who we needed to communicate with and formed an understanding of cultural sensitivities.


We looked for a solution to explain the seeming complexity of a clinical study to people with no prior research experience and more importantly who often could not read or write. The result was a simple flip chart. We had a local artist make drawings of key steps in the clinical study. A text was written on the flipside of each drawing so that the study nurse could deliver a standardized explanation intended with the drawing to the study volunteers. This was used as a preamble to a test of understanding and taking the informed consent on an individual basis.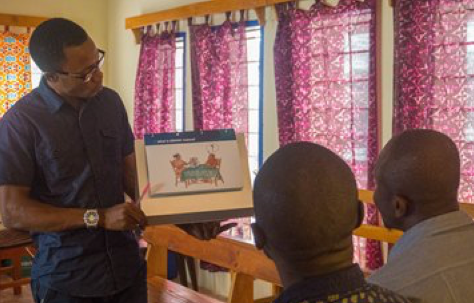 A team of local community liaisons was hired and trained to be the eyes and ears of the study. They helped pick up any rumours in an early stage allowing us to react quickly and control any potentially detrimental situations.
Given that the candidate vaccine needs to be administered in two injections separated by 56 days, we needed to keep track of who gets vaccination in a country where few people have formal means of identification. Therefore, we used biometric tools to scan people's iris' and take their fingerprints at each study visit. This technology aided us to identify participants in a non-stigmatizing manner. This was important especially in the early stages when people didn't want to be associated with Ebola.  The biometric identification kit has since evolved to a hand-held tablet with small iris scanning camera.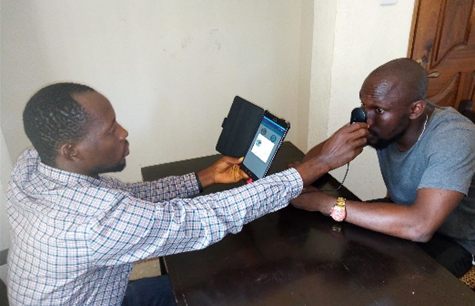 Practical challenges in terms of how to get participants to return for clinic visits were overcome with the use of mobile phone technology. Basic feature phones are widely used in Africa so this enabled us to send voice messages in the local languages to remind people of appointments and enforce Ebola protection messages.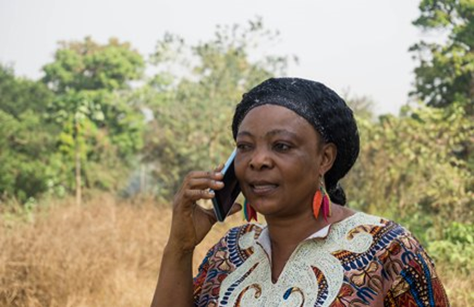 Making the health system more resilient to fight future outbreaks
In addition to the support EBODAC gives to the Ebola vaccines studies in Sierra Leone the consortium are also mandated to strengthen the health infrastructure to ensure a more robust response to any future outbreaks of Ebola and improved readiness for the deployment of any licensed Ebola vaccine. In light of this mandate the consortium is currently piloting a Mobile Training Support System (MOTS). Key training content is delivered to the mobile phones of remotely located Community Health Workers as compact voice messages & quizzes.

Training modules were developed specifically on the topics of Vaccines and Disease Surveillance building on the national CHW curriculum. Our aim with MOTS is to refresh the CHWs basic knowledge of vaccines and reinforce messages that they had previously heard during their initial face-to-face training so that the community health workers could be more confident when engaging in their communities around vaccines. Further, strengthening their disease surveillance capacity is important as CHWs are often the first to detect communicable diseases like Ebola in their community.

The consortium continues to disseminate their learnings and have developed a guidebook which is electronically available as an on-line training resource: http://www.ebovac.org/ebodac/training-resource/
More information on EBODAC is available at: http://www.ebovac.org/ebodac/
Serge Masyn, Paula Mc Kenna, and Anneleen Vuchelen also contributed to this blog