Building a healthier and more environmentally sustainable future: a case-study from Takeda
Climate Action, one of Takeda's environmental programs, focuses on minimizing its carbon footprint across its value chain and decarbonizing its own operations by using its own or sourced renewable energy.

Over the last year several renewable energy projects were added to already existing ones and compliment renewable energy sourcing.

With two facilities in the state of California and a location that can see episodic power outages and a power grid that is under stress at peak times, installing solar panels provides trifold benefits  - more independence from electricity providers, supporting Takeda's ambitious environmental sustainability goal in becoming net zero in its own operations and ensuring patients have continued access to the medicines they need.

At the L.A. site 1,500 solar panels were installed on the parking lot structure. The system has a capacity of 578kW and can generate about one MWh of renewable electricity — or enough to power 700 U.S. homes for a year on average.

In addition to the green energy efforts in L.A., other renewable energy achievements 2021 include:
Three main manufacturing sites in Japan started to purchase 100% renewable electricity, which will result in 30% annual reduction of CO2 emissions at the plants in Osaka, Hikari and Narita.

Renewable electricity is used at nearly all manufacturing sites in Europe. The plant at Grange Castle, Ireland, now operates on 100% renewable wind energy and at the Lessines, Belgium site solar panels were installed as well.

Solar panels were also installed at the Tianjin plant in China, reducing the need for conventional electricity and reducing greenhouse gas (GHG) emissions.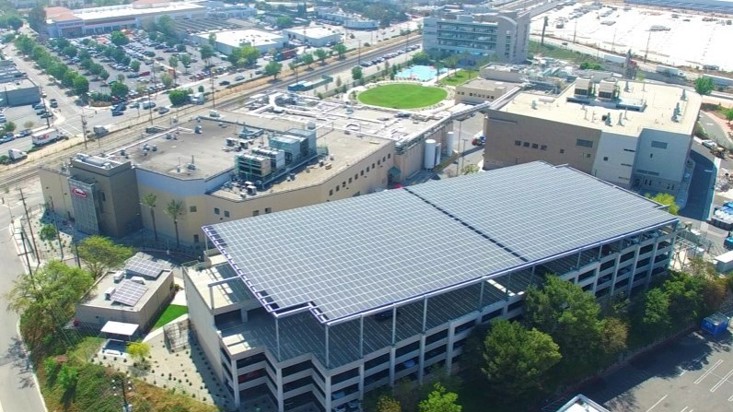 LA solar panel installation