Connecting healthcare across the industry and stakeholders to implement the 3Rs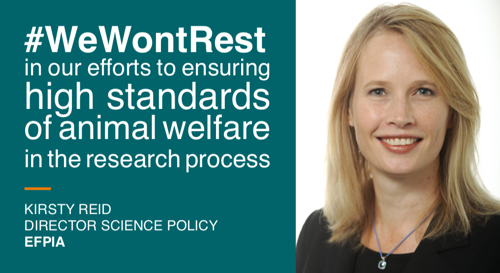 The pharmaceutical industry is fully committed to the key principles of 3Rs (Reducing the number of animals used, Refining experiments to minimise the impact on animals, and Replacing animal experiments wherever possible with alternatives). We strive to go beyond what is legally required and work to implement 3Rs to ensure high animal welfare and high quality science and ultimately improve the lives of the people and animals that stand to benefit from the research.


The pharmaceutical industry continues to support the objectives of the Directive 2010/63/EU on the protection of animals used for scientific purposes which has enhanced animal welfare standards and mandated the application of reduction, refinement and replacement ('3Rs') across the EU while ensuring Europe remains a world leader in biomedical research. The use of animals in research and testing can be a controversial subject and therefore it is important to support an open dialogue and collaboration on the use of animals for scientific purposes, including a high degree of transparency and openness. We support:

Dialogue

- A stand out need is effective collaboration. It is essential in connecting healthcare to ensure innovation, value and transformation, which has a beneficial impact on animals and 3Rs development.

Transparency

- Telling what we do and how we do it, is crucial to explain and justify why the use of live animals is still an indispensable requirement to develop drugs for serious diseases or chronic illness. While at the same time, numerous activities are underway to move away from the reliance on animals and therefore it is important also to inform on the abundance of work and commitment of companies to move towards refining animal models and the development and implementation of alternative approaches to reduce the sectors reliance on animals.

Collaborative Research

- 2018 saw IMI, the Innovative Medicines Initiative – the largest health public private partnership - celebrate 10 years. Over the 10 years, over 100 projects have been established to accelerate the medicines development process. Many have impacted strongly on eliminating poorly predictive animal models, developing new improved models, replacing animals with better in vitro and in silico models and establishing a number of alternative tools.
Since the adoption of the EU legislation governing animal use, EFPIA and its members have been publishing reports to visibly highlight our actions on putting animal welfare principles and the 3Rs into action. Here we introduce you to our 5th report. Enjoy!


The previous reports "Putting Animal Welfare Principles and 3Rs into Action" are available here.