DIA Leader of Tomorrow 2022 – bringing students and young professionals closer to the innovative pharmaceutical industry
Leader of Tomorrow is a community created by DIA that is tailor-made for students and young professionals in life sciences seeking scientific knowledge and building a meaningful professional network.
On the 28th of March 2022, EFPIA welcomed in its offices a few students and young professionals from the DIA Leader of Tomorrow network, that were curious to find out more about the innovative industry, but also about EFPIA's activities and the daily responsibilities of the staff.
The visit started with a warm welcome delivered by Magda Chlebus, Executive Director Science Policy and Regulatory Affairs, that presented EFPIA to the participants, focusing on the structure, key activities and the role of the trade association.
Participants had the chance to interact with four staff members working in different teams. Nicolas Creff - Senior Manager Research partnerships, Silvia Garcia - Senior Manager Regulatory, Drug development and Manufacturing, Giulia Biasi – Senior Manager Communications and Giacomo Borgo – Senior Manager Public Affairs introduced the participants to their main projects and responsibilities within EFPIA. Amongst the topics discussed were the Innovative Medicines Initiative (IMI), the Innovative Health Initiative (IHI), innovative clinical trials, drug development, pharmacovigilance, communications planning and strategies and last but not least, what it looks like to work in Public Affairs.
Sini Eskola, Director Regulatory Strategy, delivered a presentation on medicines development and regulation, starting with how the regulation of medicines changed the health environment, ensuring increased quality, safety and efficacy of medicines. She presented then the global and European Regulatory authorities and explained the composition of the European Pharmaceutical Acquis. Last but not least, she explained how the regulation facilitates the development of a drug throughout its lifecycle management and what are the regulatory activities that need to take place at each step.
The last presentation was delivered by Anna Czwarno, Director Regulatory Affairs, Vaccines Europe, who brought the vaccines perspective into the discussion. She presented the structure, mission, and role of Vaccines Europe, ending her intervention with some curiosities from the vaccines' development process that are usually less known by the general public.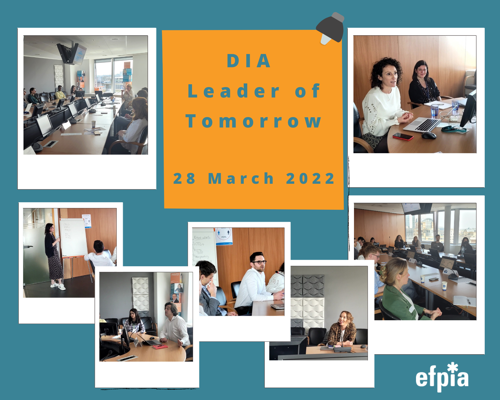 Participants were very engaged throughout the day, showing high interest in all the activities done by EFPIA and Vaccines Europe. After the session, participants had the chance to get to know each other, to interact with a few staff members and discuss their takeaway messages from the day.
EFPIA truly believes in the importance of continuous development and is happy to engage with the students and young professionals and inspire them with opportunities provided by the innovative pharmaceutical industry.