Diagnostics to save lives (Guest blog)
At Janssen, we strive to intercept disease as early as possible and we know that non-invasive diagnostic solutions can play a big role in making this goal a reality. Theresa, Medical Director for Global Medical & Scientific Affairs at Janssen Diagnostics in Belgium, discusses her commitment to achieving a world without disease.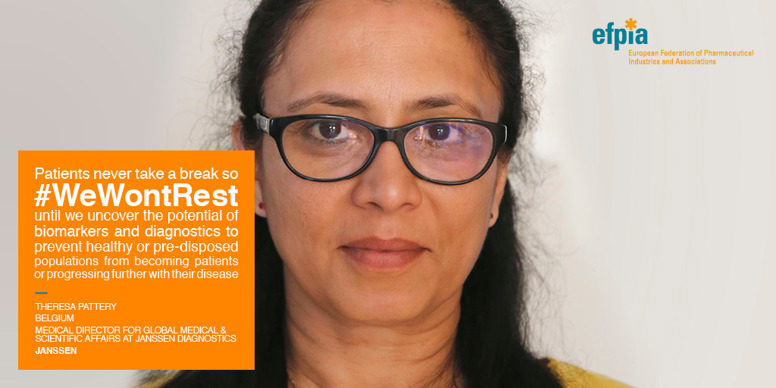 Can you explain in a few words the objective of your work within Johnson & Johnson?

The main objective of my work in diagnostics, is to create a future where the term "patient" becomes a thing of the past, because intervening and stopping disease from progressing in healthy individuals would be the new normal. Today's advancements in science, technology and digital health have opened a new era, and I believe what lies ahead for the healthcare ecosystem is going to be truly transformational.
As part of your work, you have been quite involved in the Ebola crisis. Could you tell us more about the work you conducted in this framework?

Following the beginning of the Ebola epidemic in 2014 in West Africa, we worked on delivering an accelerated development of rapid diagnostic tests for emergency outbreak preparedness.
In 2015, Janssen together with Biocartis NV, NIH-US and the Belgium Institute of Tropical Medicine joined hands to partner together and co-develop an Ebola virus triage test (FDA-Emergency Use Authorized), which has cut the waiting time for diagnosis to a fraction of the previously available testing. Whereas before patients would have to go through a lengthy test that would take more than 8 hours, the new test was simple, safe and effective. The new, and fully automated sample-to-result, molecular diagnostic test made it possible to do the test requiring 200 µL of blood from patients and providing results in approximately 100 minutes, distinguishing Ebola from other diseases.
It has been one of our great achievement to create a near-patient test for the Ebola virus that is fast, goes directly from blood, safe for HCPs and easy-to-use.
And now, what is your next challenge?

Many of us are aware that HIV-1 Viral Load monitoring and viral suppression is one of the most powerful tools in the care of people living with HIV and AIDS.   Finding a rapid, effective, point of care viral load diagnostic for HIV-1 patients in Sub-Saharan Africa, using the "ASSURED" WHO criteria, is the next exciting challenge on my list. The virus is just so good at outwitting our best defenses and although we have successfully managed to convert HIV into a chronic disease in the western world, it continues to spread, if not suppressed with effective regimens, devastating lives and families in resource limited settings. Currently, we are working hard to have a test approved by next year that will only take 20-30 minutes to provide a clinically actionable viral load result to the patient within the same visit either in a clinic or in a remote setting. Getting results like these gives us hope for the future as we are caring for people and patients everywhere.
What do you pledge to do as part of this campaign?

I won't rest until we uncover the potential of biomarkers and diagnostics to intercept disease and prevent healthy populations from becoming patients.
Biography

Theresa is currently the Medical Director for Global Medical & Scientific Affairs at Janssen Diagnostics, a division of Janssen Pharmaceutica N.V., based in Belgium. She is a Registered Medical Practitioner specialized in Viral & Microbial Molecular Genetics from the Free University of Brussels (VUB) and is working at Johnson & Johnson for the last 15 years. Her prior clinical experience within hospitals and academic centers ranges from general anesthesia, medical microbiology, microbial pathology and molecular genetics. Her skills and expertise are mainly in the following therapeutic areas for molecular Dx: Infectious Diseases such as HIV, HCV, HBV, HPV, Ebola Virus, Viral Respiratory Infections, bacterial enteric infections, lung infections, burns care and Oncology-Circulating Tumor Cells and biomarkers for Dx. She is the Laboratory Director for the Infectious Disease (BSL3 Lab) & Oncology Labs at Janssen Dx and is a trained and certified CAP (College of American Pathologists) Inspector. Her strong analytical skills have allowed her to become an expert in problem solving, process re-engineering and transitioning to compliant IT systems to create a paperless lab, perform large data analysis and ensuring continuous improvement within the Dx lab. She is also responsible for the medical safety needs of the Dx products and services due to her patient-centricity and passion for patient insight.