#ForTheChance to be a wife, a mum and a part-time runner (Guest blog)
You've got rheumatoid arthritis.
You have something that can be treated.


Being diagnosed at 27 with 'rheumatoid' arthritis (no-one hears the rheumatoid bit, and even when they do, they don't know what that means so will ignore it) is a shock to the system, but admittedly it's probably a shock at any age.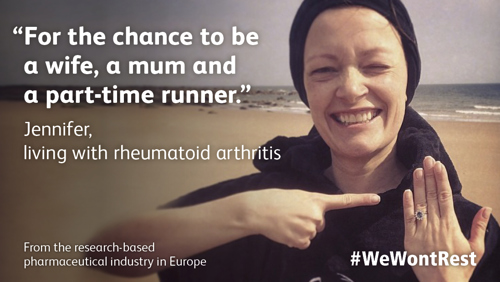 First and foremost is getting on the right treatment; this is what will make it possible to lead a fairly normal life with your condition. Be mindful though, rheumatoid 

arthritis (RA)

isn't like having a headache, where you know that generally a paracetamol will work for most of us. They (those higher beings) don't know what causes it, and they don't have a one size fits all, it's all about luck I suppose, and patience.


There are lots of theories but, if I could tell myself of 9 years ago (I haven't reached that 10 year milestone) one thing, it would be the above. There are currently no known cures, and it might be for your own satisfaction that you need to investigate what else is available aside from what the doctors prescribe, but try not to expect too much from a capsule of herbs or a tonic of vinegar: I spent a lot of time, money, hope and tears on 'magic' cures that transpired were nothing more than what they sound: a capsule of herbs and tonic of vinegar.


It took a year on varying concoctions of medications to finally get onto something that led me onto the path of recovery and ultimately remission, although this was some further years down the line.


RA is one of those diseases that seems to drop you into boiling water but then, as it does cool down, you're still in that haze of earlier shock that you don't necessarily notice the gradual improvements until suddenly you're out of the water and dry.


My life is very different from the one it was 9 years ago. I'm a different person and have grown and learned so much, not just about my condition but about myself. Whilst I would love not to have RA, I wouldn't be where I am now if it wasn't for it and I cannot imagine my life without what I have now.


I'm married. We have a two-and-a-half-year-old daughter (turns out you can do that when you have RA, you just have to plan it a bit more). I volunteer to run courses at the local hospital helping people newly diagnosed with RA. I've just completed my first 
half marathon and last year I got invited by the Prime Minister to 10 Downing Street in recognition of the previous two points.


I can do what anyone else can do: I love cycling (when it's dry), I sometimes love running, I hate swimming in the UK (it's wet, it's exhausting and just no), I love cooking and in the summer am desperately trying to be like Monty Don in our little garden by the sea. I also like to lie on the sofa and watch a film with a glass of wine and family pack of Maltesers. 

What has changed is that I am more aware these days that I can't do everything I used to, I do have to accept that I have to pace myself more and give myself time to rest, and also remember to be kind to myself!


I would finally tell myself that, cliché or not, everything happens for a reason and, to be honest, I did tell myself this, regularly, not necessarily believing it, but knowing it to be the one thing that helped me try to find any reason in what was happening to me.