#ForTheChance to live a normal life (Guest Blog)
Things have changed drastically for the better since I was a child. I have haemophilia B. When I was a child, I bled a lot. I received no care, no drugs and no therapy for the first 10-15 years of my life. Before we had access to treatment in Bulgaria, they just did blood tests and follow ups.


Today, all children in Bulgaria have access to prophylactic treatment. This development in medicine means children now do not need to struggle and suffer like my generation did. Children with haemophilia nowadays, can now be children – play football, and other sports and games.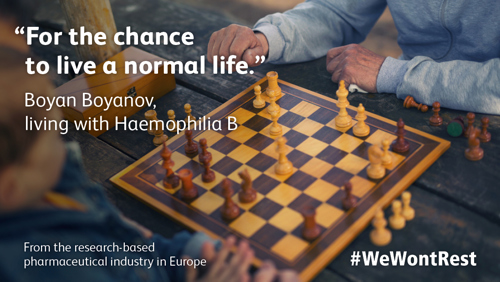 When I was young, I was away from school for months at a time. The jump in care from my generation to the current generation is immense. I hope treatment for haemophilia B continues to be developed and changes haemophiliacs' lives even further in the future.


Six years ago, I was able to start having treatment at home, which really made a positive impact to me psychologically. When I received treatment at the hospital it felt like I was a sick person. When I do the treatment at home, I feel calm and almost normal. To have this opportunity due to medical advances is something I greatly appreciate.


I only need to treat myself a few times a month and being from my home, means I do not need to face the burden of travelling and being within the hospital environment.


I was unemployed and spent a lot of time at home. But now the advances in medicine mean I can work like other people. Working is very important to me. It also means I can travel long distances without any worry. I'm now in control of my condition which allows me to have freedom.