IMI projects deliver top quality research publications
Collaboration counts: the Innovative Medicines Initiative (IMI) drove public-private partnerships that produced high-impact papers
IMI projects produced 7,177 publications between 2010 and 2020, reaching an all-time high in 2020 when 1,211 papers were published, helping to address key areas of unmet need.
In addition to delivering a high quantity of publications, IMI also produced quality: publications from IMI projects are cited at twice the global average rate and two thirds of these papers appear in high-impact journals. In fact, publications by IMI-backed projects have a significantly higher impact factor than the EU average.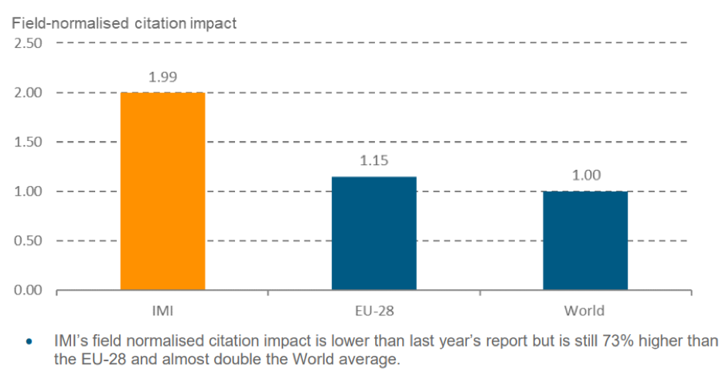 This impressive result features in a new report, prepared by Clarivate, which tracks key facts and figures to help measure the impact of IMI, the world's biggest public-private partnership in the life sciences.
Launched in 2008, IMI aimed to improve health by accelerating the development of next generation vaccines, medicines and treatments, such as new antibiotics. IMI2, which ran from 2014 to 2020, had a budget of €3.276 million from the European Commission and industry partners (primarily EFPIA member companies). Its impact on medical science can be traced, in part, by tracking publications – one of the 10 key performance indicators by which IMI's success is measured.
The number of publications has grown steadily, aside from a slight dip in 2019. Last year, in 2020, a number of IMI2 projects (including AIMS-2-Trials, RESCEU and RHAPSODY) published more than double the number of papers compared to previous year.
In keeping with IMI's commitment to excellence, the majority of papers (67%) appeared in high-impact peer-reviewed journals and covered a wide variety of topics. These ranged from basic biology to clinical practice, addressing areas of unmet clinical need in diabetes, rheumatoid arthritis, neurology and much more besides.
Not only is this research appearing in top journals, but many of the papers are also highly cited. In fact, around a quarter are in the top 10% of papers in their field. In addition, IMI papers had a considerably higher (73%) citation impact than the EU average citation impact in similar fields. This puts IMI in the top tier of science funding agencies globally.


Collaboration is key
What really caught my eye when reading through the report was the highly collaborative spirit that shines through. Collaboration is, after all, at the heart of the IMI. From the outset, partners hoped that by working together, their collective impact would be greater than the sum of their parts. That is precisely what has happened. 



IMI projects bring together partners from across sectors, institutions and countries; it pairs public and private partners working towards a set of ambitious common goals; it combines experts from different disciplines to achieve insights that would otherwise simply not happen. By being open to new ideas and new partners, participants enjoy fruitful collaborations that drive progress.
And all of this has translated into impact. Nearly two third of all IMI project papers were co-authored by researchers in different sectors; almost 85% were involved in collaborations between institutions; while 63% featured international collaboration. Collaborative projects had a citation impact almost 50% higher than non-collaborative research.
What can we take from all of this?
Well, for a start, collaboration counts. By bringing people together, IMI is a catalyst for advancing understanding of medical science in areas of unmet need – delivering excellence science that helps to solve difficult research problems.
By pursuing a shared research agenda, IMI provides the focus required to ensure resources are mobilised and deployed efficiently to tackle the biggest problems facing medical science.
And by setting and measuring KPIs, the success of large initiatives like IMI can be tracked over several years.
As the EU looks to the future of innovation in healthcare, the lessons from a decade of IMI publications are clear: partnership drives progress.