In-kind contributions to IMI projects – How does it work?
In 2007 the European Commission and EFPIA created the Innovative Medicines Initiative (IMI), the largest public-private partnership for health in the world. Via this platform, public and private researchers come together to work in areas where there is an unmet medical or social need. And perhaps this has never been more critical than in the recent launch of IMI Call 21, which aims to accelerate the discovery of  new diagnostics and therapeutics against COVID-19. 

IMI projects are delivered by joint consortia typically consisting of several companies and several public partners (such as academia, regulators, patients groups, and non-governmental organisations). Due to its hybrid, collaborative nature, this kind of research undertaking has therefore a special funding model. Here's how it works:
Industry does not receive any public funding (EU grants). The cost of resources invested in a project (time of experts, samples, studies, consumables, subcontracted work, cash, etc.) is not claimed back – it is

EFPIA's in-kind investment in IMI projects

. How the funding works is  explained in our infographic below.

An

amount that matches the industry investment

is given as grants to public partners in the consortium to fund the cost of the work that public partners undertake for the project. So, for example, if the contribution of industry partners is worth €5 mln, a €5 mln grant will be paid to public partners by the European Commission.
Are in-kind contributions real; how are they reported and checked?
Companies report all costs in exactly the same way as the grantees. The costs should be traceable in companies' books and the companies' financial reports need to be checked and signed by independent auditors, prior to their submission to IMI.

Companies' financial reports are then scrutinised by the IMI Office, including through on-the-spot checks. 

To learn more about this process, take a look at our infographic.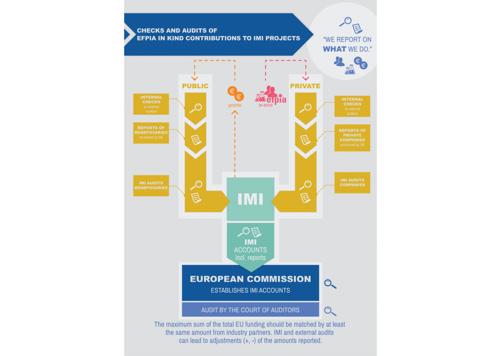 So even if companies do not receive public funding from IMI, their reporting obligations are the same as for public partners. The only difference is that companies are not directly audited by the Court of Auditors (CoA), because its role is to check how EU funding is used. The CoA however checks IMI accounts, which comprise companies' financial reports.

Why do companies not receive funding?

This is because they usually define the topic texts, in line with the IMI2 strategic research agenda, to which they commit upfront specific in kind contributions. What's more, industry does not choose with whom it might work on a project – public partners are selected by an independent panel through a competitive process. This model works effectively for the type of projects and collaborations that IMI pioneers.

Under exceptional circumstances, such as this COVID-19 pandemic, the topic  driven by the urgent public health need, was defined and written by the IMI office and companies and public partners were invited to team up and submit joint proposals to accelerate time to start. However, even in these special circumstances, large companies will not be eligible to receive public funding in IMI.

One size does not fit all: the Commission has a number of different instruments to support research and development, each of them tailored to a specific need or a specific facet of the challenge at hand. IMI is just one model amongst many, and this diversity is fantastic for European science and innovation.

If you would like to know more about the funding of IMI and in-kind contributions made by companies, please consult the IMI website for additional information.