Industry as a partner to strengthen healthcare systems after COVID-19 (Guest blog)
The COVID-19 pandemic has been the most significant challenge faced by global societies in recent times, placing unprecedented strain on healthcare systems and their broader ecosystems around the world. We will feel the effects for many years to come, both from an economic perspective, but also at an individual level, due to unaddressed healthcare needs caused by disruptions to services such as community care, elective care and screening programs. Governments are caught between the challenge to fund healthcare now, while making investments to build healthcare resilience and increased capacity for the future.
A vibrant pharma industry is part of the solution, not just a budget line item
Amidst the pandemic, we have seen an acceleration of innovation. The industry has made unbelievable efforts to support the COVID-19 response, investing tens of billions and bringing multiple vaccines to market in record time. While the crisis may have led many of us to feel disconnected, it has unified the industry and all those working in healthcare, who have been collaborating to address challenges faced at a global level. Bristol Myers Squibb was proud to play a key role in this regard. One example is its partnership with Rockefeller University regarding a promising monoclonal antibody duo treatment that neutralizes the SARS-CoV-2 virus for therapy or prevention of COVID-19.
The pharma industry will also be an important partner to address the incredible challenges that still lie ahead, with a backlog of non-COVID healthcare needs that built up during the crisis. Together, we play a fundamental role in the resilience of healthcare systems, delivering long-term benefits for patients which could lead to overall reductions in budget if appropriately funded. Therefore, the industry should be viewed as a critical partner to help strengthen healthcare systems and the health of our nations, rather than just a cost.
As an industry, and as EFPIA members, we won't rest until we can ensure patients across Europe are able to access new treatments and future medical innovation, within the framework of sustainable healthcare systems. Faced with the challenge of building resilience in a constrained financial environment, governments will be tempted to look to pharmaceutical budgets for savings. However, we need to work together to find the most efficient ways to allocate resources and focus on what will make the greatest difference to patients and society – now and in the long-term.
Carefully choosing from the cost-containment "toolbox"
Healthcare decision-makers in Europe have a range of policies to choose from to manage spending on pharmaceuticals. But not all policies are equal, and some have the potential to undermine innovation and negatively impact the industry's ability to address the future needs of healthcare systems and, ultimately, patients. So, to ensure sustainable healthcare systems in the long-run, policymakers need to balance principles of resilience and the value interventions bring to patients and society.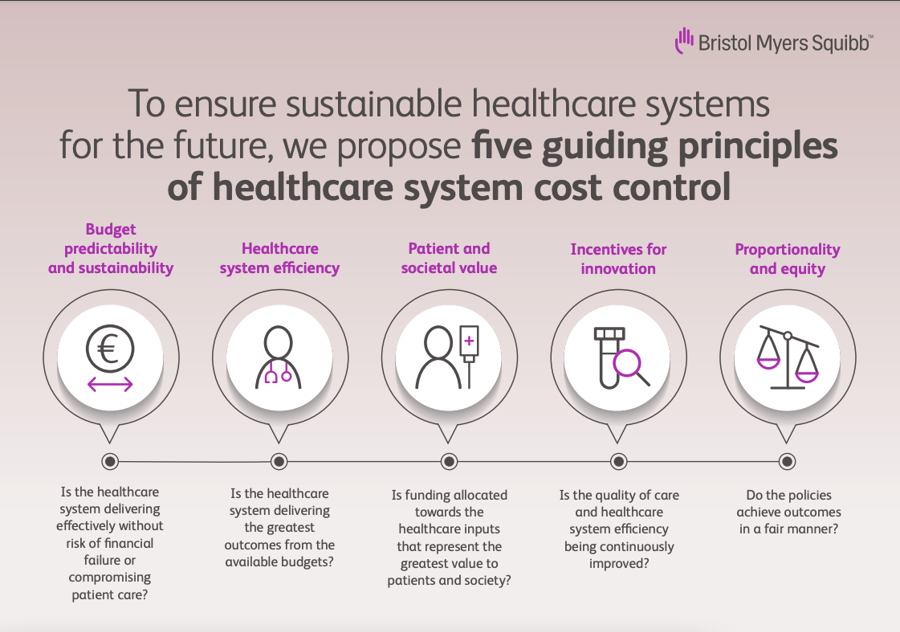 Product-centric policies focused on value to patients
Patients should be at the heart of every decision we make within healthcare, and this should also apply when implementing healthcare policies. The cornerstone for funding decisions should be evaluating treatments based on the difference they make to patients and the value for money they represent in each country or region. Pharmaceuticals are routinely subject to robust, evidence-based assessments, which provide high-quality data on their value for patients and society, helping to build efficient and sustainable healthcare systems. However, these assessments are currently underutilised. It is estimated that up to a quarter of all healthcare spending is currently wasted on ineffective interventions or obsolete care practices. Therefore, healthcare systems would deliver more value for money if high quality value assessments were used more broadly.
The best way to complement the approach of assessing patient value is to improve our ability to monitor and capture patient outcomes. The COVID-19 crisis has highlighted the importance of access to real-time and comparable data on how patients and populations are affected by disease and, critically, on the effectiveness of different interventions. In Europe, we have an opportunity to take the lead in driving standardisation of health data quality, investing in electronic health records and accelerating the EU health data space. Wider investment in these health information systems could improve the quality of real-world data and help policymakers identify the interventions that represent the best value for money in clinical practice settings.
However, it's not always feasible to generate this kind of evidence. For example, with highly specialised and targeted therapies, where patient numbers are often small. No value is derived from innovation if patients cannot have access to it, so in these cases, novel product-centric policies are needed. This is the case for outcome-based agreements, where linking payments to real-world outcomes can mitigate short-term affordability concerns, allowing for greater patient access and incentivising innovation.
Budget capping should be used with caution; industry-wide measures should be avoided
If we endeavour to raise the bar and improve patient outcomes, it is important to secure an environment that fosters our industry's ability to innovate, in partnership with other stakeholders. Budget capping and paybacks for treatments are commonly used in several European countries, but are these the right tools to improve health system value and efficiency? While they may help to increase predictability of public spending, and act as a safety net, they are blunt tools that can have disproportionate consequences. If used inappropriately or if arbitrary policies are implemented, such as unilateral price controls – which don't consider a treatment's value or evolving evidence – they have the potential to undermine innovation and negatively impact industry resilience.
Pro-innovation policies essential to addressing future healthcare needs
Over the coming months and years, policymakers will be under pressure to reduce costs, while balancing increasing demand, and pharmaceutical budgets are likely to be targeted. This must not come at the expense of a robust innovation ecosystem. Industry is an integral part of health system resilience and, as we have seen, it can provide critical support during times of unprecedented crisis, while continuing to address ongoing unmet needs. By working with policymakers to identify the most appropriate policy solutions, together we can enable patients to access the innovative treatments they need, while ensuring the resilience of healthcare systems to serve the next generation.