Is access to quality biomarkers and NGS testing available to European cancer patients?
Unlocking the potential of precision medicine in Europe – improving cancer care through broader access to quality biomarker testing
Biomarker tests are essential tools in the diagnosis and treatment of cancer. They can be used to provide precise diagnoses and identify patients most likely to respond to treatment, therefore informing treatment selection. They can also help predict and monitor disease progression and identify patients at increased risk of developing a given condition.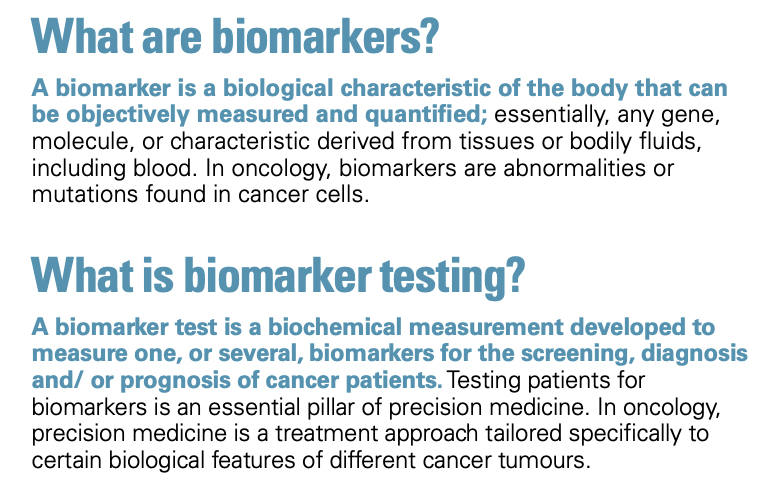 In this way, identifying biomarkers and developing corresponding biomarker tests have become increasingly important in the development of new therapies.
High quality oncology biomarker testing will lead to better outcomes for patients with cancer. However, current access to biomarker testing is inconsistent and contributes to health inequalities across Europe.
A new paper "Access and quality of biomarker testing for precision oncology in Europe" has been published in Volume 176, In progress (November 2022) of the European Journal of Cancer. The paper evaluates the access to and quality of biomarker testing across Europe, following a survey conducted in 2020 by the International Quality Network for Pathology (IQN Path), the European Cancer Patient Coalition (ECPC) and the European Federation of Pharmaceutical Industries and Associations (EFPIA), with the support of a consortium of industry and academic partners. The paper, focusing on the EU 27 and the UK, analyses the current biomarker testing practices in solid tumors and identify country-specific shortcomings. It includes a literature review on the current status of precision medicine treatment and testing in oncology, as well as interviews with key stakeholders, and two online surveys, one targeting laboratory managers and the other patients with cancer and patient advocates. 
The patient survey proposed by ECPC ran successfully during the acute COVID-19 pandemic from February 2020 to September 2020 and was conducted among its members and patients with cancer, to characterize the patient experience along the cancer diagnostic journey. It included questions to identify the level and quality of patient education on biomarker testing, the degree of patient satisfaction around the testing process, the availability of public reimbursement to cover the cost of biomarker testing, the availability of different biomarker test technologies and test turnaround time.

The findings include:
The access to single biomarker tests is inadequate in many European countries.

In Europe, <10% of specimens requiring molecular testing are analysed with next generation sequencing.

Low participation in external quality assessment [1] raises concerns about test quality.

Limited access to biomarker testing can preclude access to precision medicines.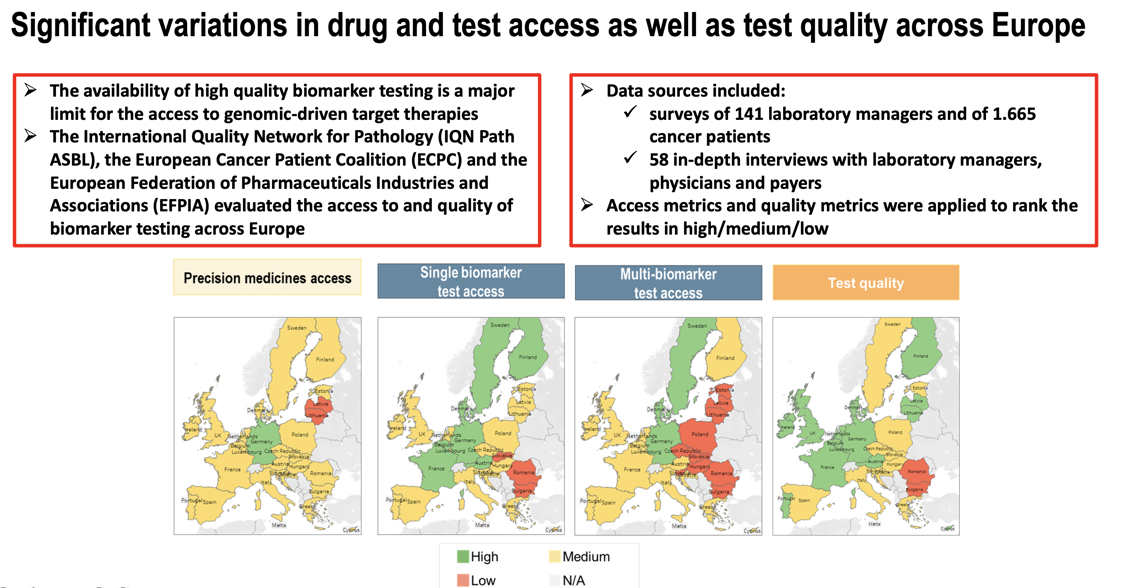 The survey data indicate the need for a call to action to ensure the clinical implementation of precision medicine in Europe. The following recommendations addressed to the European Commission and Member States concluded the report to improve the patients access to biomarkers:
A process should be developed for the parallel regulatory and reimbursement approval of the precision medicine and the associated biomarker test. Precision medicines and biomarker testing work in tandem. Physicians will not order tests unless the results can be used to inform treatment decisions. But in many countries, there are significant delays between the approval of precision medicines and corresponding biomarker tests, and their inclusion on reimbursement lists. Parallel approval of the medicine and the test will improve timely availability.
Investments in testing infrastructure and training of test personnel are required. Some countries in Europe lack sufficient laboratory infrastructure to support access to new biomarker testing technologies. In some countries there are also shortages of trained laboratory personnel to perform biomarker tests, and many laboratories do not participate in quality assurance schemes.
An adequate budget must be identified to be allocated to biomarkers, to meet all needs. A lack of dedicated funding is a key contributor to limited access to biomarker testing.
A stringent system for verifying the quality of the tests must be implemented to guarantee patient safety.
These initiatives are urgent to remove the barriers to biomarker test access and therefore to guarantee equal access to the new therapeutic possibilities for all European patients, in the Europe's Beating Cancer Plan. 
You can download the article: https://www.sciencedirect.com/science/article/pii/S0959804922005305
You can download the results of the survey: https://www.efpia.eu/media/589727/unlocking-the-potential-of-precision-medicine-in-europe.pdf
You can download the infographic: https://www.efpia.eu/media/589673/biomarker-testing-summary-final-version.pdf


[1] What is External Quality Assessment (EQA)? EQA is used to describe a method that allows for comparison of a laboratory's testing to a source outside the laboratory (external agency or facility). It is a system for objectively checking the laboratory's performance.