May is when we come together to help the world get more #BladderCancerAware (Guest blog)
Each year in May, we remember all those who have been affected by bladder cancer. It is also a time when bladder cancer patient organisations stand together for those currently undergoing treatment, and everyone who is currently affected by bladder cancer worldwide.


A recent global patient survey conducted by a group of our member organisations uncovered perspectives on awareness and treatment of bladder cancer from patient experience. Over half of the respondents were unaware of bladder cancer before diagnosis.


This year, together with our members and partners across the world, we are helping communities get more #BladderCancerAware.


Bladder cancer in Europe
In Europe, approximately 200,000 new cases diagnosed each year. Bladder cancer is the 5th most common cancer on the continent. Unfortunately, more than 60,000 people die from bladder cancer each year.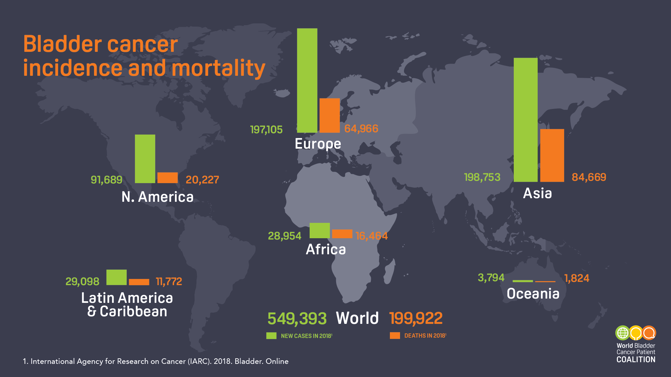 Although men are more likely to be diagnosed with bladder cancer, women are more likely to die from the disease. The success of the treatment and thus, survival is significantly impacted by a timely diagnosis. An earlier diagnosis remains essential for a difference in beating bladder cancer. Awareness amongst the general population and primary care physicians is fundamental to tackle late diagnosis.
Over the last 30 years, bladder cancer patients were faced with mostly unchanged treatment options with a significant impact on the quality of life. More recently, an increase in promising bladder cancer research has been advancing, lending hope to people affected by bladder cancer worldwide.
Successful patient-centred research requires the meaningful involvement of patients and caregivers throughout the research process. The World Bladder Cancer Patient Coalition has a vision for a robust bladder cancer patient community in Europe and the rest of the world. Together, we can identify persistent unmet needs giving a stronger global voice for people affected by bladder cancer.
Facing new challenges in light of COVID-19
In 2020, bladder cancer awareness month takes place in the extraordinary circumstances of a global pandemic. Facing COVID-19  brings new challenges to our work and to the people we serve. We have seen an increase in the need for patient support and information as access to diagnosis, surgery and treatment has been affected worldwide.
As the global voice for people affected by bladder cancer, we believe the awareness month this year is as important as ever. We continue the conversation to make sure that all people affected by bladder cancer are aware that they are not alone. So many of our member organisations and partners are there to provide information and support in light of the global pandemic.
COVID-19 confronts us with new challenges and amplifies the existing ones. Neither should be overlooked, if we are to avoid the tremendous long-lasting impact it will have on people affected by bladder cancer, and the entire cancer patient community.
Today, more than ever, collaboration is fundamental to find innovative solutions, advance research and make sure that no one feels left behind in the fight against cancer.
About the World Bladder Cancer Patient Coalition (WBCPC)
The World Bladder Cancer Patient Coalition (WBCPC) was established in January 2019 by a group of dedicated patient advocates from three major national bladder cancer organisations that saw the need for a global bladder cancer coalition. Many of the WBCPC member organisations were born out of a personal struggle and lack of existing information and support for people affected by bladder cancer. The World Bladder Cancer Patient Coalition now brings together ten patient groups from three continents, uniting the vision and goals of bladder cancer patient groups to ensure the best possible outcomes for bladder cancer patients around the world.