Putting the patient at the heart of what we do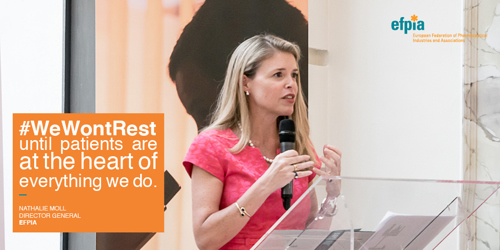 Most of us share experiences of healthcare, as patients, as relatives or as carers. They can be frightening, destabilising experiences that disrupt or even devastate our aspirations for the future and how we live today.  Very often we have to learn a completely new vocabulary around a disease, learn what treatment options are available and what adjustments to day-to-day life need to be made.  And after the shock of an initial diagnosis, we, as patients, very quickly build up unparalleled knowledge about living with our disease(s), about the impact of treatments, what works and what doesn't, how a health service is delivered and the way that impacts on our lives.

Informed decision making is one way of reasserting some control at a time when many of our choices seem to be dictated by our diagnosis or the clinicians caring for us. And these insights we develop, living with or caring for someone with a disease can, and should, inform the future direction of medical research and how we shape patient care.

As the World Health Organisation puts it "Occasionally, all citizens have to make important health decisions that affect health outcomes. Strategies to support patient education and engagement should therefore be a fundamental plank of health policy. Also, patients can play an important role in understanding the causes of illness, protecting their health and taking appropriate action, choosing appropriate treatments for acute episodes of ill health, and managing chronic illness. These roles must be recognised and supported.[1]".

And this applies equally to the medicines we use and the companies that research, develop and deliver them. Medicines are some of the most powerful tools in treating and curing disease. Their use, efficacy and impact are often central to the patient pathway, experience and outcomes. In that context, developing patient centred policies, gaining patients' insight in to the development and use of medicines and ensuring that relationships, collaboration and partnerships are focused on benefit to patients, are all key drivers in putting the patient at the centre of healthcare.

So what does that mean at EFPIA? How are we putting the patient at the centre of what we do?

One of the great things about working in this industry is the people I meet. They are often focused on their area of science or of the regulatory process and they are all motivated by the desire to improve the lives of patients.  At EFPIA, we work across a spectrum of issues from prevention and awareness, through research and development, regulatory and Health Technology Assessment (HTA) processes, to managing relationships, developing healthcare service design and outcomes measurement.  Each one has a direct impact on the lives of patients across Europe.

Actively listening to patient experiences, patient challenges and exchanging insights must shape how EFPIA develops its thinking, its dialogue with others, its policy and the positions we advocate. It is only through open and transparent dialogue between patients and industry that we can ensure that the patient perspective becomes an integral part of how medicines are researched, developed and delivered to patients. Inclusion of the patient perspective has the potential to co-create and co-develop better health care management and patient outcomes, delivering greater efficiencies in healthcare utilisation. 

This is why I put have patient engagement at the forefront of EFPIA's work.  We have begun to make patient engagement part of EFPIA's organisation-wide culture by introducing objectives and measures on patient engagement in all the EFPIA teams, rather than siloed in distinct patient engagement centred groups or activities.  We have worked with our patient partners in the EFPIA Patient Think Tank to produce "Working together with patient organisations".  The document looks at the rationale for engagement, the principles on which relationships should be based, the key touch points and the challenges and opportunities. 

Later this year, we will publish the Health Collaboration Guide 2018 showcasing examples of collaborative projects between patient organisations, healthcare providers and industry that have benefitted patients.  We are working with partners from across the research and development community through IMI's PARADIGM project to develop best practice in patient engagement throughout the research and development process.

Our members are leading the drive to put patients at the centre. 
From designing clinical trials to developing patient reported outcome measures, EFPIA members are engaging patients in the decision making process.  Underlining their commitment, you can see a series of #WeWontRest pledges from Board members of EFPIA to put patients at the heart of what we do.
[1] http://www.who.int/management/general/decisionmaking/WhereArePatientsinDecisionMaking.pdf