The 2021 EFPIA Connecting Healthcare Awards: An interview with Anders Blanck (Guest blog)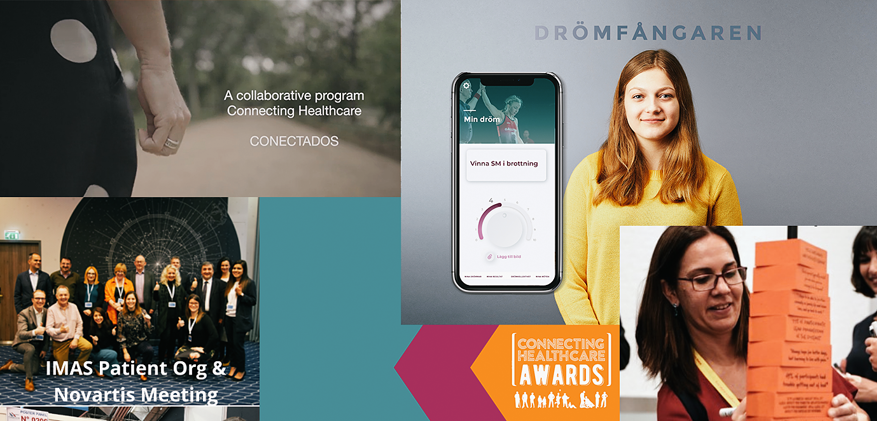 Read the original Swedish version here
The EFPIA Connecting Healthcare Awards highlight valuable collaborations between companies and patient organisations. This year's winners include the Swedish-dominated project Drömfångaren ("The Dreamcatcher"), which changes the traditional perspective in rheumatism care, and "The International Map of Axial Spondyloarthritis" (IMAS), a unique survey of patient experiences of living with Axial Spondyloarthritis.
Anders Blanck, CEO of Lif and member of the Connecting Healthcare Awards jury panel, says that "it is important to take advantage of the innovative power in this type of collaboration between patients and industry". "Selecting the best candidates was an interesting challenge", he says, as "the general level of contributions was very high":
- "Everyone got high scores, but there were still some projects that stood out a little extra and won the different categories. Something that also made it complicated was that each project has a different character. Some have been carried out by established organisations while others have been run by small and new actors across Europe. They had different conditions and yet we evaluated them fairly based on six criteria, so it was a difficult but fun job!"
Why is it an important prize to be awarded?
- "It is important to pay attention to projects that try, in various ways, to strengthen and empower the individual patient, regardless of whether it is in a direct care-related context, in preventative work or to simply strengthen individuals in their everyday life. And since many of the patient organisations have small financial and human resources, it is especially important to pay attention to the particularly interesting projects. It helps to give them sustainability so that they may be able to live on to the great benefit of patients and relatives, and not least when it comes to collaborations with organisations with limited resources".
Uniquely comprehensive survey wins the main prize
There are 4 Connecting Healthcare Awards: the overall winner, as well as 3 category awards for 1) Innovation, 2) Prevention and Awareness and 3) Service Delivery. The overall "Connecting Healthcare Award" this year went to IMAS (The International Map of Axial Spondyloarthritis). The project has brought together patients, researchers and healthcare professionals who together have generated knowledge about what it is like to live with the diagnosis of Axial Spondyloarthritis. With the help of a Europe-wide survey, IMAS has evaluated patients' experiences from a physical, mental and social perspective and mapped how the disease has been managed in healthcare. This knowledge can improve care and increase patients' participation in their own treatment, which in turn increases quality of life.
- "It is a very unusual disease and the interesting thing about the project is that it has managed to reach over 4,000 participants", says Anders Blanck. "The project may seem simple because it is a survey, but it is the largest study conducted among people living with Axial Spondyloarthritis. In addition, the study has been conducted in over 13 European countries and has succeeded in reaching virtually everyone living with the disease and their relatives. IMAS had a lot of competition but won the overall award because it was the most collaborative project and can also be replicated in several countries".
Young Rheumatics behind the best innovation award
The Dreamcatcher, which won the Innovation Award, is a Swedish project carried out by The Swedish National Organisation for Young Rheumatics (Unga Reumatiker) together with actors in the healthcare and pharmaceutical industry. It is a digital tool that enables younger people with rheumatological diseases to set goals and formulate dreams about the future, which they then receive support from the healthcare system to realise. Anders Blanck says that it was both the most innovative and most hopeful project:
- "The dream catcher has a positive attitude and questions the traditional way of conducting treatment based on a specific disease state or body part. Here you focus on what you as an individual have as ambitions for the future and from there you try to build a care chain that suits you based on your dreams and goals. And it helps all the actors involved to be careful to do the right things at the right time. It is also a unique collaboration between a patient organisation, healthcare, and pharmaceutical companies. And it is based on open source code so it is scalable which makes it a useful future tool for more patient groups".
Collaborations that strengthen patients' position in healthcare
What does it look like in Sweden when it comes to collaborations between companies and patient organisations?
- "The pharmaceutical industry has been working for many years in various innovative collaborations and collaborative projects with patient associations and the like. Collaboration is good for raising awareness of various aspects of a disease, what it is like to live with it and how to improve care, rehabilitation and the social context".
The collaborations are many, but Anders Blanck says that Lif would like to see even more initiatives. "Today, everyone agrees that the patients' position in care must be strengthened and that they and their relatives should have the conditions to live as good a life as possible, even if an illness naturally has a great impact on one's life. Here, all good forces need to work together", Anders Blanck states and says that collaborations on innovations in healthcare are an important component.
- "One must utilise the forces that exist in, among othes, pharmaceutical companies and patient organisations, who can actually express patients' wishes and driving forces. They are the ones who can define the most important parts of being a patient, citizen and individual. If we do not take advantage of the innovative power of collaboration between companies and organisations, where patients channel what they want to achieve and companies help to realise it, I think we risk getting far too little innovation. So I really do not see that there is any other choice. The only obstacle is that this type of collaboration is not always taken for granted by the outside world. That is why we work a lot with our regulations".
- "Lif's rules on collaborations ensure that the parties do not put each other in situations you do not want to end up in and we continuously inform about what applies. It is important not to be dependent on each other for projects and collaborations. The collaborations must be limited in time and scope and not be a regular activity. This is to avoid dependence on financial or other types of support from pharmaceutical companies or other actors".
Read more about the 2021 Connecting Healthcare Awards