The Invisible Woman: Hidden Within the Statics (Guest blog)
As stakeholders, we need to be aware that each statistic represents a personal struggle we may easily miss if we don't listen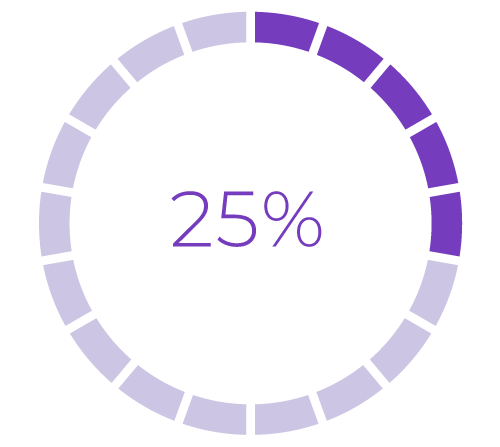 When talking about breast cancer, we tend to focus on the big picture: statistics.

We might know that 1 in 8 women[1] in Europe will develop breast cancer before the age of 85.
We could be familiar with the fact that breast cancer is the most commonly diagnosed cancer amongst women-- accounting for 25% of all cases[2].
We also may be aware that among cancers, breast cancer is the number one killer of women, not to mention worldwide.

But what do we know about how this disease, particularly advanced breast cancer (aBC), affects the lives of those living with its diagnosis?
Beyond a clinical assessment, a holistic approach which assesses the disease while also considering societal, wellbeing and financial aspects is rare. Following the recent publication of the "Invisible Women 2.0,"a companion and update to the 2013 edition, the outlook for those impacted by aBC shows there are still opportunities for improvement. I've pulled several stats that help us explore the aBC patient journey and show why we still have a way to go in our efforts.

The impact of diagnosis
It shouldn't be a surprise that breast cancer, particularly aBC, has a massive impact on the wellbeing of the patient, both emotionally and physically. This emotional burden is demonstrated by a staggering 58% of women reporting a loss in confidence and 62% an increase in anxiety and depression following diagnosis.

On a physical level, 58% reported pain and discomfort interfering with daily life and 43% needed help for regular personal care. 

With this disease, physical and emotional adversity come together to take a heavy toll on the wellbeing of an individual living with aBC.


[Infographic source - page 12]
In addition to its strain on wellbeing, breast cancer places a heavy financial burden on patients.
For example, 75% of women reported having to make changes to their work life and 59% of women indicated a decline in household income following an aBC diagnosis. This, coupled with forced increases in expenditure for further medication and travel to treatment, ultimately leads to 7 out of 10 of patients with aBC reporting psychological or physical problems as a direct result of changes to their financial situations.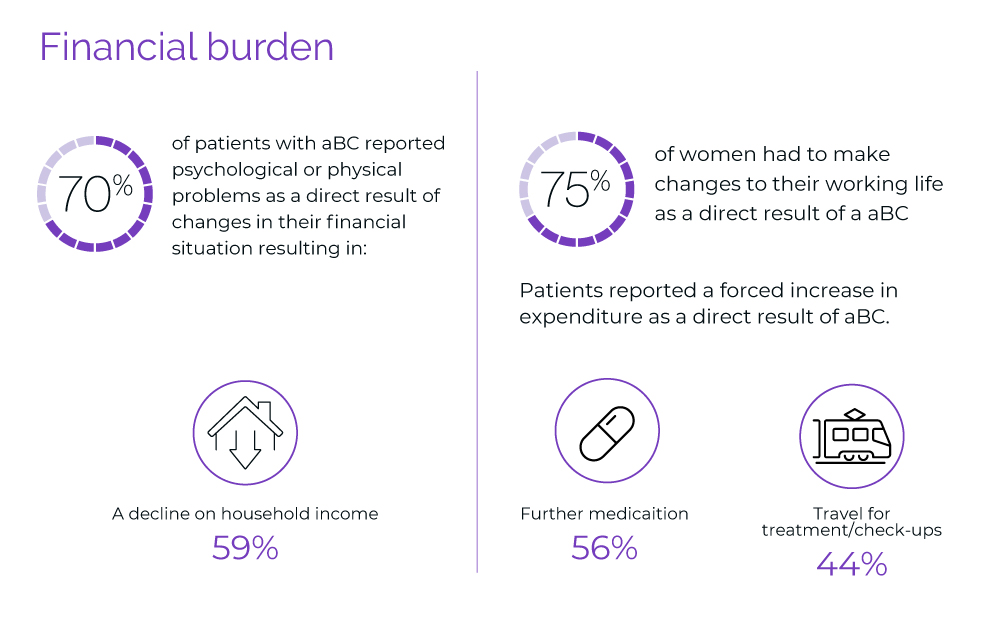 [Infographic source - page 12]
There are also wider, societal repercussions for those living with breast cancer. Mainly, it challenges how they interact with the world around them. In addition to difficulty carrying out roles and responsibility within the family and outside the home, patients experience isolation. Many express an unwillingness to speak about their disease outside of their close circle, commonly citing the pity they experience from others as a deterrent.
All of this goes to say, this disease like the people it impacts, is far more complicated the statistics can relay.
As stakeholders, we need to be aware that each statistic represents a personal struggle we may easily miss if we don't listen. It's our responsibility to ensure that our approaches go beyond focusing solely on diagnosis and survival rates to encompass a holistic approach which should always begin with the patient.

The Way Forward
It's been seven years since the first Invisible Woman report (The Here & Now report) revealed the impact of advanced breast cancer on women, families, society and the economy across Europe. Now, The Invisible Woman 2.0 2019 report explores progress made and, most importantly, work that still needs to be done to better support women with advanced breast cancer. Read more about it here.


[1] https://www.europadonna.org/breast-cancer-facs/#:~:text=Incidence%20in%20the%20EU%2D28,was%20estimated%20to%20be%20404%2C920.&text=1%20in%208%20women%20in,before%20the%20age%20of%2085.&text=An%20average%20of%2020%25%20of,in%20women%20above%20this%20age.
[2] https://www.wcrf.org/dietandcancer/cancer-trends/worldwide-cancer-data#:~:text=Global%20cancer%20incidence%20in%20women,non%2Dmelanoma%20skin%20cancer).