Valued collaborations with patient organizations (Guest blog)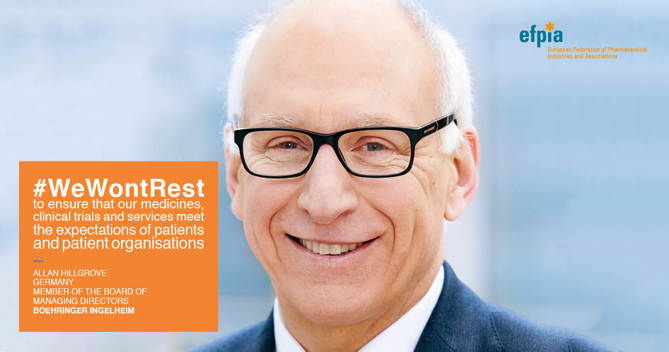 Patients are playing an increasingly important role in healthcare. They are actively seeking healthcare information and investing a lot of time in researching information that is available online. In their dialogue with physicians, patients are increasingly involved in treatment decision making. Regulatory agencies and payers are also aware of this change and are also increasingly seeking patients' advice.

Based on our commitment as a pharmaceutical company to improve the lives of patients and given that patients are increasingly informed about their disease condition we need to understand the patient and caregiver needs and challenges that they are facing in the current healthcare environment. Only then can we ensure that our medicines, clinical trials and services meet patient needs and expectations.

For this reason, Boehringer Ingelheim has already been engaging with patient organizations for more than fifteen years through its global affiliates and its corporate organization. We are convinced that a true collaboration with patient organizations gives us important insights that contribute to advances in research and healthcare innovation. Since our joint interest with patients is to pursue the goal of improved health we consider patients as equal and valued partners, whose views and independence we fully respect. That is why we strive toward long-term, trustful collaborations, where we can learn from each other based on openness, transparency and ethical values. All collaborations between Boehringer Ingelheim, patients and patient organizations will follow Boehringer Ingelheim's Code of Conduct and comply with any applicable laws, regulations and industry codes regulating the relationship between the pharmaceutical industry, patients and patient organizations.

Boehringer Ingelheim aims to collaborate with patient organizations across the lifecycle of Boehringer Ingelheim's medicines. Collaborations include seeking patient advice regarding clinical trial conduct. For example, patient advice has led us to choose the smallest needles to draw blood for routine lab tests in a Scleroderma clinical trial in order to reduce the pain experienced by patients.

Scleroderma causes scarring (fibrosis) of the skin and major organs. Alzheimer patients in early stages discussed with us how medications should be presented so that patients can cope with the medication dispenser.

In the future, we aim to continue and further develop our collaboration. To help us do this, we have created a global patient advocacy relations function to coordinate our collaborations and activities with patient organizations.

We are driven by our vision of Value Through Innovation, which includes serving humankind through new innovative therapies. Together with our valued partners, we will achieve this goal by incorporating patients' perspectives and needs into the development of innovative medicines, education and services that will improve their lives.