#WeWontRest until people with rare diseases get faster access to medicines, based on innovative access models and the use of Real-World Evidence (Guest blog)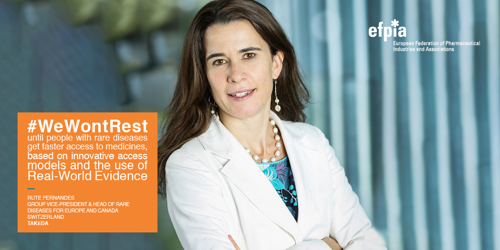 Rare diseases are among the toughest and most complicated of diseases. They are often severe, debilitating and can lead to early death. Most are genetic and start at birth or in childhood and, sadly, an estimated one in three children born with a rare disease does not reach their fifth birthday.


We know that the EU Orphan Regulation (2000) has created incentives leading to significant new research, clinical trials and treatments. According to a report by Pugatch Consilium(1), Europe has seen the strongest growth in clinical research on rare diseases since the mid-2000s -with annual activity increasing by 88% between 2006 and 2016.


However, barriers to patient access at national level remain. And for people with rare diseases, speed matters, as delays to treatment can lead to serious consequences. Moreover, today's pricing and reimbursement assessment processes for rare disease medicines can lead to substantial delays or failure to gain access for patients.


Therefore, Takeda is advocating for new approaches in the evaluation of rare disease treatments and evidence generation. We are working with our partners to improve patient access to rare disease medicines by designing innovative approaches that will accelerate access using Real-World Evidence (RWE). For example, Takeda is a partner in the multi-stakeholder 'Trust for Rare Diseases' (TRUST4RD) project led by the Belgian payer RIZIV-INAMI. TRUST4RD builds trust and facilitates early dialogue in adaptive payer models between HTA bodies and ministries, regulators, patient representatives, clinicians, clinical research bodies and industry. The goal is to address uncertainties for all stakeholders with a specific focus on rare or complex diseases that require highly specialized treatment.


And we will continue to partner with the rare disease community, putting the patient first. This follows from our values – what we call Takeda-ism – and our four priorities; always put the patient at the center; build trust with society; reinforce the reputation of the company; and deliver superior business performance, always in that order (PTRB). These values and priorities drive us to address future patient challenges and questions about improving diagnosis, R&D and access for rare diseases.


We at Takeda believe that now is the time to accelerate change and bring new hope, help and progress every step of the way for people with rare diseases.