Good Lay Summary Practice Recommendations are now published in EudraLex.
Recognising the importance of providing accessible and understandable summaries of clinical trial results to patients and the interested public.
Good Lay Summary Practice Recommendations are now published in EudraLex.





Wednesday, October 27, 2021. Good Lay Summary Practice (GLSP) Recommendations were published on 4th October 2021 in EudraLex Volume 10. It was adopted by the Expert Group on Clinical Trials (CTEG, a working group of the European Commission consisting of representatives from Ethics Committees and National Competent Authorities and EMA) and was developed in cooperation with the Roadmap Initiative to Good Lay Summary Practice Group.
In March 2019, the EFGCP, in collaboration with EFPIA, established an international multi-stakeholder group to identify best practices for the delivery of a fit-for-purpose Lay Language Summary (LS) of clinical study results, with the intention to build on existing European Commission guidance issued in 2017 and on global sponsors' experience so far (TransCelerate and MRCT). To this effect, the LS working group consisting of experts from 60+ academia, pharmaceutical industry, patient organisations, and not-for-profit organisations set up the Roadmap Initiative to Good Lay Summary Practice (GLSP). Its objective was to enable a framework for the planning, development, translation, and dissemination of LSs of clinical trial results as required by the 2014 EU Clinical Trials Regulation (CTR No 536/2014).
To create an environment that is favourable to conducting clinical trials in the EU, with the highest standards of safety for participants and increased transparency of study information, the Regulation requires, among other obligations, to publish on the Clinical Trial Information System (CTIS) information on the authorisation, conduct and results of each clinical trial with a medicinal product carried out in the EU. As of February 2022, the European Medicines Agency (EMA) will make information stored in CTIS publicly available since CTIS will be the single entry point for submitting clinical trial information in the EU.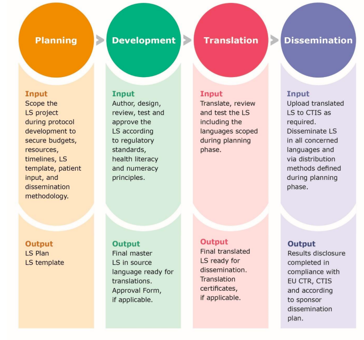 The Roadmap Initiative to GLSP Group has continuously worked diligently over 2.5 years and established relationship with the EU Commission's CTEG to deliver on its roadmap. Building on the experience of public and private sponsors beyond Europe, and with patient involvement and the efficient support of the CTEG, a 85-page comprehensive guidance including a quick guide, was issued to help sponsors from the planning and scoping stage, through the development process, translation and to the final dissemination stage (see Figure 1); the ultimate goal being "to enable all sponsors to generate and disseminate objective and understandable information on clinical trial results," for trial participants and the general public.

The guidance acknowledges the challenges such as patient involvement, resources, and LS translations, which may vary depending on whether the sponsor is from academia or industry. Since there is still limited experience to reporting paediatric trial results the GLSP, while recognising that these studies need special approaches for LS generation, provides preliminary recommendations with the hope to have them completed in the future, with experienced gained.
In line with Annex V of the CTR, the GLSP provides details on how to best summarise the key trial results in a LS and advises sponsors to establish a standard operating procedure and a LS template. In addition to patients' involvement and identifying a drafting/delivering team with the necessary skills and expertise, recommendations also focus on how to report complex trials and safety results and select appropriate layouts and graphics. All these if appropriately displayed, should contribute to easy readability and increased understanding of the content of the LS. Although the EU CTR does not require LS' translation(s), the GLSP recommends, at a minimum, to provide the LS "in the local language(s) of each of the countries where the trial took place", which is already current practice among industry sponsors. Finally, dissemination beyond inclusion into CTIS can be considered, e.g., through email or the sponsor's website, or printed copies of the LS provided to the investigator.
From now on, the Roadmap Initiative to GLSP Group is considering actions that will help further dissemination and implementation of its recommendations, e.g., through webinars, workshops, and trainings. Stay tuned for further communication!
ENDS.
Save the Date to attend the first webinar on "Good Lay Summary Practice" Recommendations to learn about these new EU recommendations and to provide you with ideas on how you can prepare for this new regulatory obligation. Jointly organised by EFPIA & EFGCP, it will take place on 9th November 2021 - 15:00-16:30 CET. Register here.
 
- - - 
About the European Forum for Good Clinical Practice (EFGCP): EFGCP is a not-for-profit organisation established by, and for, those with interest in the development of medicines and medical technologies.
EFGCP achieves its mission by promoting:
open multi-stakeholder discussion on critical issues in biomedical research and health,

education and awareness leading to the application of ethical, scientific, and quality requirements in clinical research,

transparent implementation of preventive health measures and treatments,

human values in research involving human participants.
and facilitating the transfer of knowledge and skills across disciplines and sectors including training and advice. By promoting transparency, quality, discussion, and partnership, EFGCP strives to ensure the highest ethical standards into research that aims at disease prevention as well as the development of medicines and medical technologies to the benefit of the patient and other healthcare stakeholders. For more information about EFGCP and its activities, visit www.efgcp.eu.


About the European Federation of Pharmaceutical Industries and Associations (EFPIA): EFPIA represents the biopharmaceutical industry operating in Europe. Through its direct membership of 36 national associations, 39 leading pharmaceutical companies and a growing number of small and medium-sized enterprises, EFPIA's mission is to create a collaborative environment that enables its members to innovate, discover, develop and deliver new therapies and vaccines for people across Europe, as well as contribute to the European economy. For more information about EFPIA and its activities, visit www.efpia.eu.