Using the FMD Data Repositories for Shortages Monitoring
This week, we celebrate 2 years since the establishment of the European Medicines Verification System – EMVS - (set out in the FMD (Directive 2011/62/EU) and the associated Delegated Regulation (EU/2016/161)). The system is a world-first for its stakeholder model, its scale, its use of new technologies and represents an unprecedented step towards preventing falsified medicines from entering the legal supply chain. Patient health and safety is of the utmost importance to the stakeholders that have put every effort in place to implement safety features and set up the EMVS. Moreover, anticounterfeiting efforts are more important than ever with the roll-out of COVID-19 vaccines. 
However, 2 years after its establishment, parts of the system still experience operational shortcomings, deriving from a lack of political willingness or from lax enforcements attitudes. On any given week, it appears that the system can generate up to half a million 'false positives' in some major markets due to reasons as simple as scanners not being properly set up or software not being updated. Beyond this, there is evidence that, in some countries, serialized packs are not scanned/verified upon dispensation as required, thus defeating the very purpose of the system's establishment. See Annex 1 for additional information.
Beyond the operational shortcomings, 2 years after its establishment, the policy landscape has changed dramatically in Europe and the world. The recently released EU Pharmaceutical Strategy, informed to a great extent by the COVID-19 pandemic, places a premium on transparency in the supply chain as a means to manage and avoid shortages or medicines. EFPIA also calls for all relevant sources of information to be used in order to provide additional intelligence about the root causes and drivers of shortages, and recommends that the data stored in the European Medicines Verification System be used for the monitoring of shortages. 
As outlined in a recently published peer-reviewed article[1] (link) the data stored in the EMVS could provide useful intelligence regarding the number of packs of all prescription products being supplied by manufacturers on the various EU markets, number of packs dispensed in national pharmacies, number of packs exported (and/or imported), as well as on the level of stocks present in the supply chain at country level. The real time information in the repositories could be analysed according to very granular timeframes (per day, per week, per month etc.) as well as per region (postal codes). Such a resulting wealth of data could supplement information already provided by Marketing Authorisation Holders to National Competent Authorities regarding manufacturing and quality related supply disruption and, in providing information on causes and extent of shortages beyond manufacturing related issues, could greatly facilitate the detection and mitigation of genuine shortages.
Commenting on the occasion Nathalie Moll, Director General, EFPIA, says: "The establishment of the European Medicines Verification System represents a tremendous achievement by supply chain stakeholders and a great leap forwards towards protecting patients from falsified medicines. Beyond its primary role, the EMVS also gathers a tremendous wealth of intelligence regarding the flow of medicines through the EU supply chain, intelligence which could be used for additional benefits, such as avoiding medicine shortages. However, for the data to be relevant and useful, the full implementation of the system needs to be achieved."
Annex 1: Selected metrics from EMVO Monitoring Report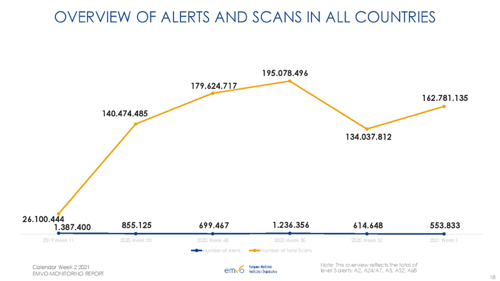 Source: EMVO Monitoring Report – calendar week 2 2021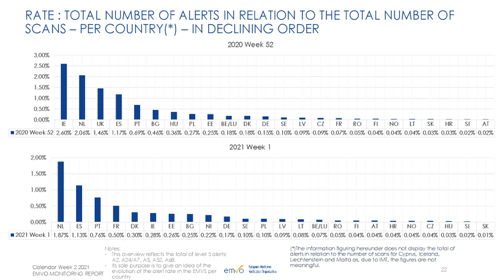 Source: EMVO Monitoring Report – calendar week 2 2021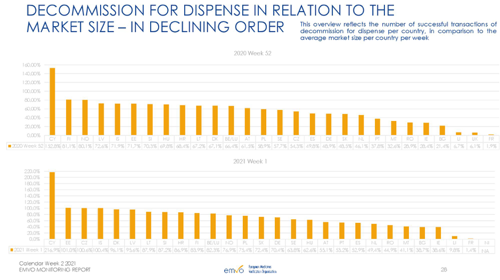 Source: EMVO Monitoring Report – calendar week 2 2021
[1] Bouvy F and Rotaru M (2021) Medicine Shortages: From Assumption to Evidence to Action - A Proposal for Using the FMD Data Repositories for Shortages Monitoring. Front. Med. 8:579822. doi: 10.3389/fmed.2021.579822