Innovative Medicines Initiative (IMI)
IMI is the world's largest public-private partnership in health
What is IMI?
IMI is the world's largest public-private partnership in health with a total budget of €5 billion – half from the European Union and half from the pharmaceutical industry, through EFPIA. IMI refers to two subsequent programmes: IMI1 under FP7 and IMI2 under Horizon 2020.

IMI sets out to address complex societal demands, unmet medical needs, and challenges in medicines development and evolving healthcare systems, in an innovative way, thereby contributing to public health and citizens' quality of life.
Its success stems from a unique collaborative model for delivering outstanding research results
IMI projects see the pharmaceutical industry working together with universities, hospitals, research organisations, small and medium-sized enterprises (SMEs), patient organisations and public authorities, including regulatory bodies.
Multiple companies join force. They identify missing or weak links in medicines pathways that hold progress. They combine (often) proprietary knowledge, data and assets. They open them up for challenge by and collaboration with public partners. The public-private consortia develop new solutions and validate them in R&D practice during project lifetime.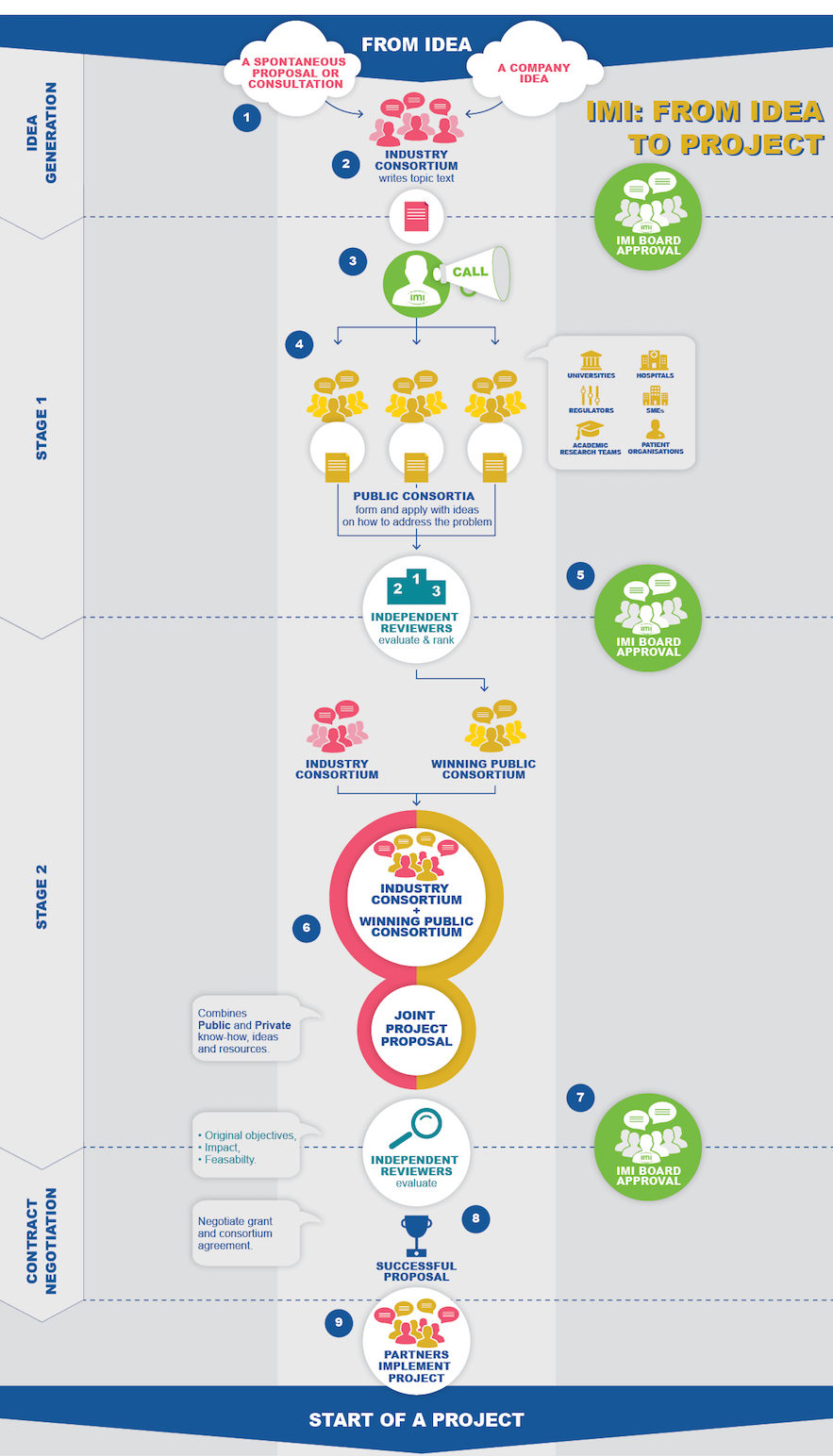 The strategic direction and overall objectives for IMI2 are outlined in the Strategic Research Agenda (SRA). The focus of the SRA, which covers the period 2014-2024, is on delivering 'the right prevention and treatment for the right patient at the right time'. An explicit link is made with the WHO's 2013 report on Priority Medicines for Europe and the World.

The SRA focuses on tools to reduce failures of the research and development process, to get safer medicines, diagnostics and vaccines to patients faster and to obtain better health outcomes.
Current projects cover a wide spectrum of challenges, including early to late stages of medicines development; from biomarkers for vaccine safety to understanding chronic pain and developing anti-tuberculosis drug combinations.
IMI projects already paved the way to new treatments or prevention of pain, autism, diabetes, schizophrenia, asthma, rheumatoid arthritis, geriatric diseases, infectious diseases (including antimicrobial resistance) and Ebola outbreak.
Navigate through our project database and find out more information on IMI projects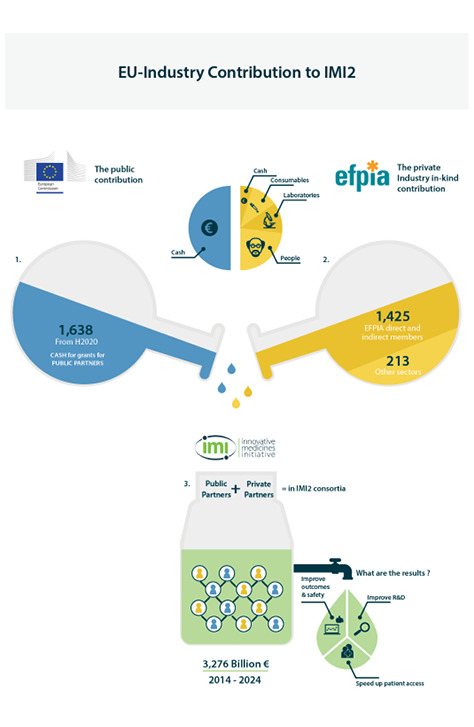 IMI is funded jointly by the European Commission and EFPIA.

The total budget of the IMI 1 programme (2008-2013) was €2 billion, each party contributing €1 billion.
IMI2, which runs from 2014-2024, saw an increase in funding, with €1,680 billion allocated by the EU for grants for public partners, from Horizon 2020, the EU research and innovation framework programme. This includes a contribution of up to €213 million from other Life Science industries, should they decide to join IMI 2 as members or as partners in individual projects.
Public funding is not accessible by industry, but is allocated solely to public partners. Industry invests in kind – these contributions are mostly in the form of: personnel; other direct costs (consumables, equipment depreciation, samples, compounds etc.); subcontracting (e.g. for clinical trials); or financial contributions – a transfer of funds from an EFPIA company to an academic institution within the same project/consortium, where appropriate.

For further information, please contact the Science Policy team at science-policy@efpia.eu