Innovative Health Initiative (IHI)
IHI will be the home of both ongoing IMI and future IHI projects, seeking to foster the research & innovation ecosystem in Europe
IMI becomes IHI
Conscious that future breakthroughs in healthcare and medical science will be the result of cross-sectorial discoveries, IMI needed to evolve. Europe is at a crossroads, facing increasing challenges on several fronts while at the same time, technological and scientific advances offer new opportunities to solve these challenges. Bridging the gap to address today's health and translational challenges will require a multi-sector public-private partnership. 

The successes of IMI and the knowledge gleaned from 14 years of experience and almost 200 projects means that IHI will ensure Europe remains at the cutting edge of interdisciplinary, sustainable, patient-centric health research.  
To bring this vision to life, Europe's new partnership for health will bring together the biopharmaceutical, biotechnology, digital health and medical technology sectors, along with academic and patient communities and the European Commission to create a new, world-leading cross-sectorial partnership. Continuing the IMI journey, this new public-private partnership will both become a "home" for 100+ still ongoing IMI projects and implement new IHI initiatives

 

aim

ed

 to remove silos and combine capabilities and expertise, with all industry sectors contributing equally to the projects and to the programme.


This unique initiative strives to: 
Pioneer the patient-centred integration of knowledge, technology and products 

Tackle each and every aspect of care to improve lives of patients across Europe and beyond 

Strengthen Europe's position at the forefront of medical innovation 

Address current and future health challenges 
EFPIA is proud to be among the five industry associations that have come together, representing pharmaceutical, digital, biotech and medical technologies industries operating in Europe (COCIR, EFPIA, EuropaBio, MedTech Europe and Vaccines Europe).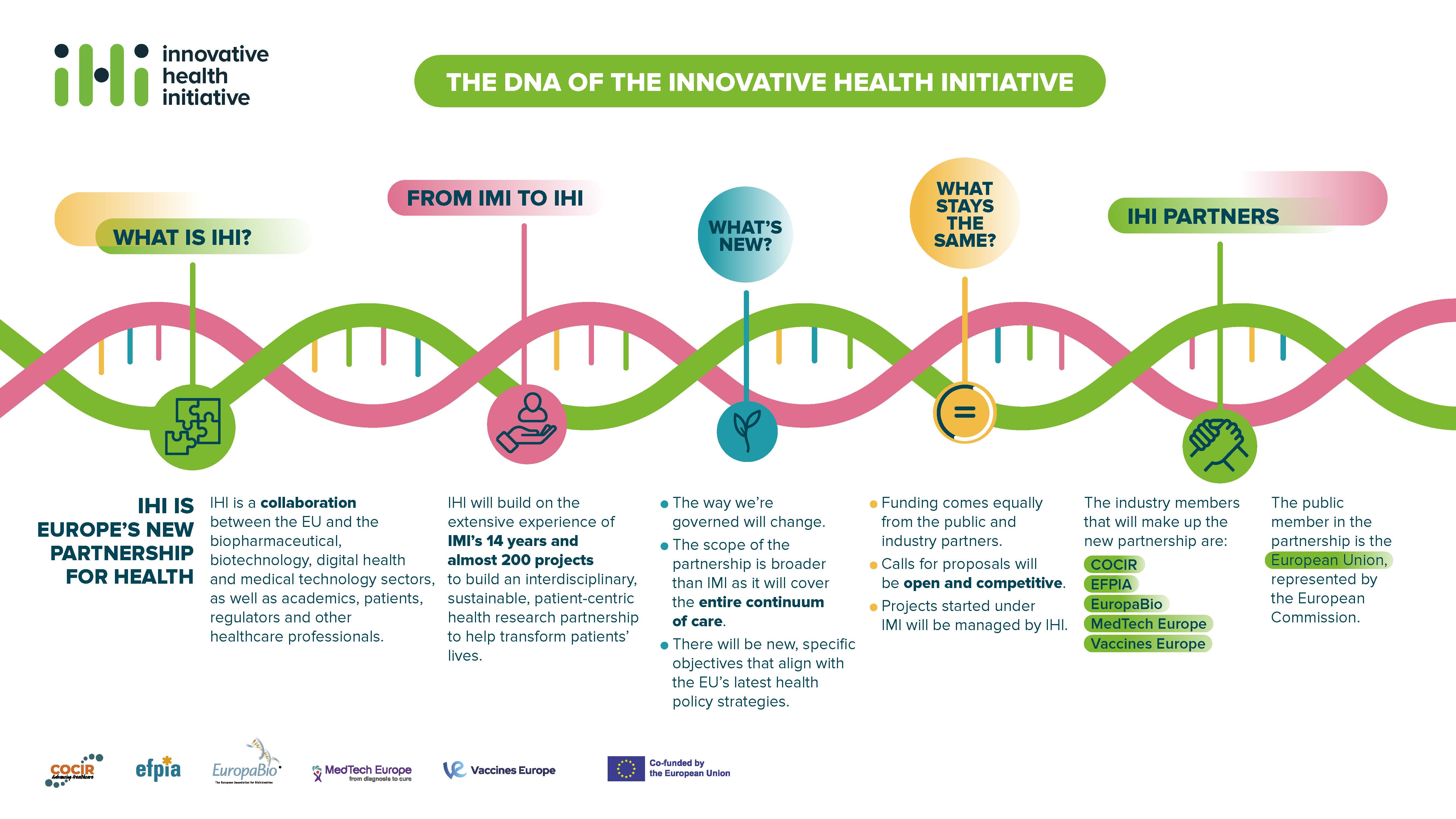 EFPIA members committed nearly 3 billion Euros across IMI1, IMI2 and IHI to progress biomedical research and address patients and societal needs. 


How can this Partnership help solve significant current and future health challenges in different healthcare areas?  
Read more on the Innovative Health Initiative

* Download here the Industry associations Consortium Agreement template for IHI projects *

Download here the multiparty confidentiality agreement template proposed by industry associations for preparing applications for IHI actions




If you have any questions, please contact the Science Policy team at science-policy@efpia.eu