Fighting cancer
EFPIA oncology platform
#WeWontRest until everyone diagnosed with cancer has a brighter future

Tackling the challenges of Europe's second biggest cause of death requires collaboration, partnership and novel approaches. That is the goal of the EFPIA oncology platform which brings together 
EFPIA member companies. The group's aim is simple: 
To transform the lives of patients diagnosed with cancer
Cancer - Europe's second most common cause of death

Cancer remains the second most common cause of death in the EU and its incidence is on the rise as it is closely linked to demographic and lifestyle trends which are likely to persist or even amplify in the future. Furthermore, major disparities exist in access to cancer care and overall survival rates across Europe. The average 5-year relative survival rate for all cancer types combined range from 40% in Bulgaria to 64% in Sweden. Closing this gap could lead to over 270,000 more people surviving cancer for at least five years. To find out more about the impact of cancer in Europe click here.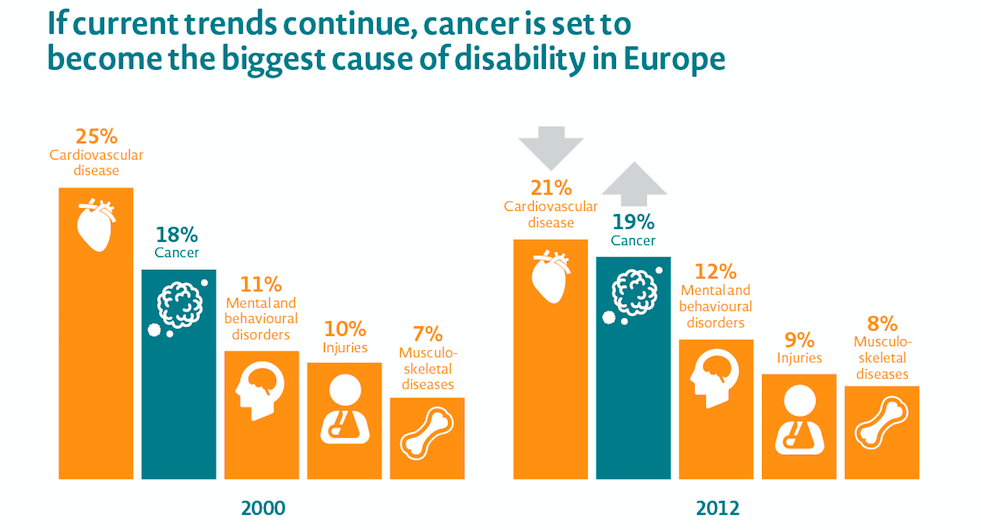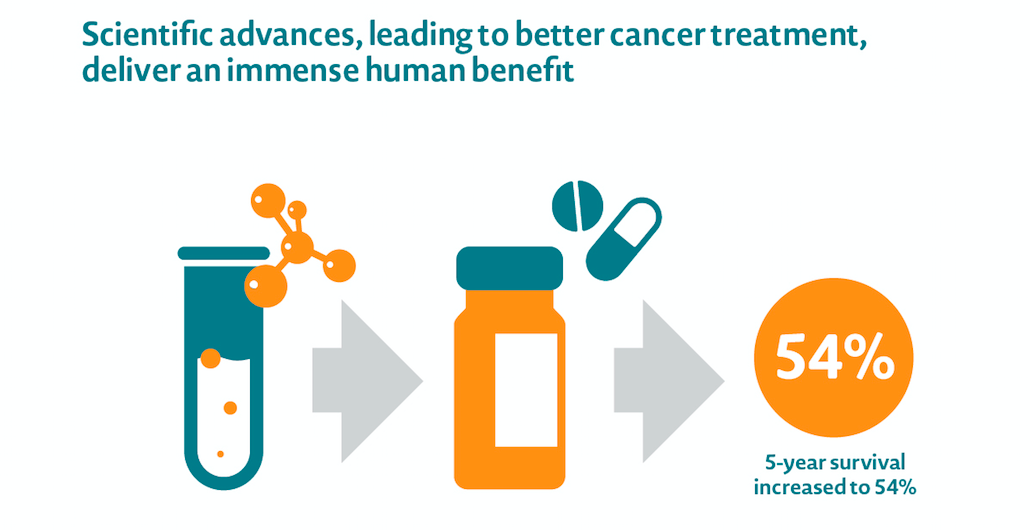 But a brighter future is on the horizon

Over the last decade, significant advances have been achieved in cancer outcomes, bringing the average 5-year relative survival rate across all cancer types in Europe to 54% for cancers diagnosed between 2000 and 2007 up from 51.5% in 2000-2002. For European patients diagnosed in 2012, over 66,000 more will live for at least 5 years after diagnosis compared with if they had been diagnosed a decade earlier. While continued improvement in diagnosis and treatment delivery have certainly played their part, so too has the availability of a new generation of targeted treatments. Importantly, this transformation in the prospects for cancer suffers has been achieved within a largely unchanged budgetary envelope for cancer care, of around 5-6% of total healthcare expenditure in western markets.

The promise of major advances in the treatment of cancer has never been greater, with promising developments in immunotherapy and combination treatments, reflecting the intensive investment that academia and industry have made in the discovery and development of new approaches to the treatment of all forms of cancer and the investments that continue to be made by health systems to improve access, screening and early diagnosis. As R&D starts to explore innovative techniques to interrupt the carcinogenic process, hence intercepting cancer at its roots, #WeWontRest until cure replaces just treating cancer. You can find out more about individuals commitment to tackling cancer here. 

To realise the potential means overcoming challenges

The number of therapy options available to adult patients has risen significantly; between 1996 and 2016, the number of treatments available to patients with lung cancer increased from four to 19.

 [3]

 New treatments with fewer side effects have also helped support efficiencies in cancer care, reducing hospital stays and enabling people to receive care at home or in the community.

 [4]

 This wave of innovation has generated an unprecedented level of choice and promise, with new treatments – and combinations thereof – continuously advancing treatment paradigms.  

However, this innovation is also arriving at a time when many governments are maintaining flat or declining healthcare budgets. Health spending on cancer as a share of total health expenditure has been rather low (6% of total healthcare expenditure on average in the EU) and stable between 1995 and 2014 despite the growing incidence and relative burden of cancer. If every European country had the same cancer outcomes achieved in Sweden in 2012

[5]

, over a quarter of a million more people per year would survive for at least five additional years.

[6]

 Europe's cancer care faces a number of challenges:
There is a mismatch between the rising burden of disease and a roughly flat spend on cancer care reflective of a sluggish economic recovery and tightening funding constraints

There are inconsistencies in prioritisation of cancer care on the public policy agenda despite the prevailing disease burden and amplitude of future challenges

There is a lack of readiness in healthcare systems to adjust to the rate and type of innovation in cancer treatment (e.g. multi-indication medicines, combinations, personalised medicine)

There is a disconnect between regulatory and HTA / pricing & reimbursement procedures and restrictive HTA value assessment frameworks

There are growing disparities in care delivery and outcomes within and across countries

 

But #WeWontRest until cancer is nothing to fear


Tackling the challenges of Europe's second biggest cause of death requires collaboration, partnership and novel approaches. That is the basis of the formation of the EFPIA oncology platform which brings together EFPIA member companies working to defeat cancer.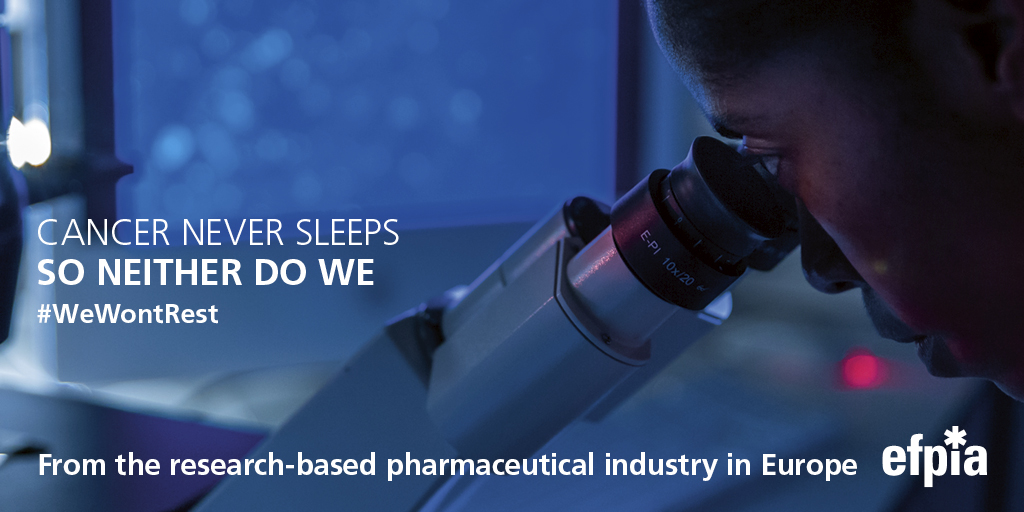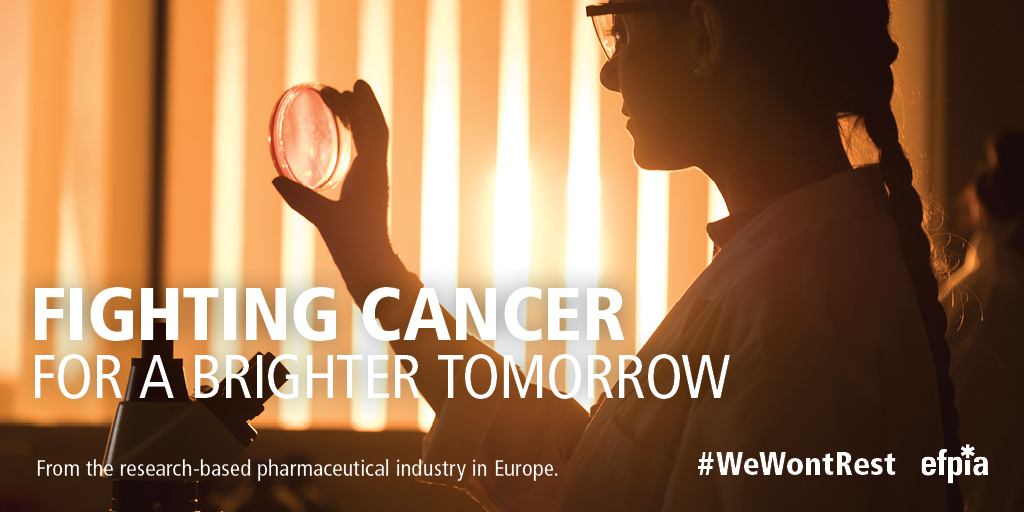 As well as it members being at the cutting edge of new cancer treatments, the group brings together stakeholders from across Europe's cancer care community to find common solutions to the key challenges in cancer care.  Informed by the views of over 150 cancer experts across Europe the group's priorities are:
Improving the sustainability and integration of cancer care

Accelerating the time it takes to get new treatments to patients

Developing tailored pricing and reimbursement models for cancer medicines
These priorities are delivered through the following work-streams:
Improving patient access to clinical trials
remove add
This initiative aims to identify challenges in oncology clinical trials, share information between stakeholders, and work collaboratively on specific issues. In particular, assessing the barriers to cross-border trial participation (especially regarding reimbursement of regular medical costs); and mapping 'trial finder' initiatives.
Health data to improve access to cancer medicines
remove add
The effective use of data is a horizontal issue, affecting all of the other workstreams. The EFPIA Oncology Platform has undertaken a research project, conducting a mapping of Oncology Health Data in Europe and identifying the initiatives occurring across Europe that aim to enhance the collection and use of oncology data, highlight the trends, challenges and opportunities and is currently finalizing its set of recommendations and final report. The final report showcases data as a horizontal enabler, demonstrating the need for appropriate infrastructure to enable several use cases (such as indication-based/outcomes-
based pricing).
Combination pricing
remove add
On 16 November 2017 EFPIA hosted a 3rd multi-stakeholder workshop to discuss the challenges of and opportunities for innovative approaches to combination treatments and how to handle patient access in terms of pricing and reimbursement. The EFPIA Oncology Platform, together with the other stakeholders is continuing the dialogue on this issue and looking for ways to facilitate access to combination therapies at national level.
Flexible access agreements
remove add
EFPIA Oncology Platform is aiming to raise awareness for the benefits and challenges of flexible access agreements and showcase examples of good practice. 
Accelerate time to patient access
remove add
The ambition of the "
Time to Patient Access
" project is to bring together diverse stakeholders in countries across Europe to jointly define the project approach, identify factors which cause delays, and co-create practical solutions that could accelerate time to patient access.

Oncology Data LandscapeThe oncology data landscape is fragmented and rapidly evolving, and it can be difficult to have a clear view of the area. Yet effective collection and use of oncology data is essential for diverse improvements in research, treatment, and the efficient running of health systems.

To address this lack of clarity, the EFPIA Oncology Platform has undertaken a research project on the 'Oncology Data Landscape'. This research has included interviews with a wide range of stakeholders and experts on oncology data.

The project provides a mapping of oncology data sources and initiatives in Europe, and explores ways to make the use of oncology data more effective for patients and health systems. The overall report and narrative should help anyone looking for an overview of the situation of oncology data in Europe. The other materials cover specific aspects in more depth. And looking ahead, the project identifies strategic solutions that could help to improve the current situation.

The project comprises the following resources:
- Overall report: a detailed summary of the research conducted for the Oncology Data Landscape project
- Oncology data narrative: a short, overview presentation on the background to oncology data, main challenges to its use, and proposed solutions
- Data sources and initiatives: summary of data sources and archetypes, use cases for oncology data, and profiles of initiatives that are seeking to transform the way oncology data is used
- Barriers: Overview of barriers to the collection and use of oncology data
- Trends: Identification of trends affecting the health data landscape in Europe
- Strategic solutions: Gaps and opportunities in the oncology data landscape based on use cases and barriers, with three potential initiatives described in detail
- Country profiles: Summary of characteristics of 10 countries in their use of oncology data
To access more information on the work, publications and latest reports from the group, take a look at the downloads section.