Accelerating Adoption of Complex Clinical Trials in Europe and beyond
Virtual event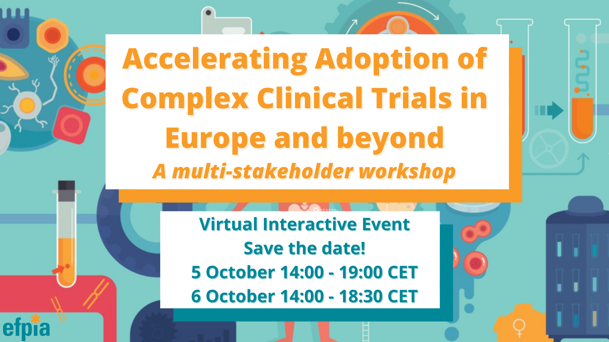 Complex Clinical Trials (CCTs) have the potential to accelerate drug development and enable patients to get timely access to transformative therapies. The main objective of this workshop is to develop shared solutions by:
What is CCT – simplifying and standardising definition of CCT

Why CCTs – how CCT can accelerate drug development

Discussing CCTs challenges and potential solutions with stakeholders experts (regulators, HTA bodies/payers, academia, patients' organisations and industry)  through shared experience with CCTs

Identifying emerging best practices to facilitate the use and acceptance of CCTs

Defining an action plan to gain acceptance of CCTs supporting regulatory decision-making

Defining educational needs on CCTs across all stakeholders

Discussing global implications of CCTs; Identifying opportunities and unique differentiation factors for conducting CCT in Europe (e.g. CTIS)

Discussing interaction/synergies with existing initiatives, e.g., IMI EU-PEARL, CTTI.
The hands-on workshop format features use of case examples and interactive sessions to facilitate co-creation of solutions and active contribution by participants.
Who should attend?
Attendees for this workshop will be selected from the following stakeholder groups who register for the workshop and who have experience and/or expertise in CCTs:
Industry and academic clinical trial researchers, for example clinicians, statisticians, and regulatory scientists

Representatives from patient advocacy groups

Members of Ethics Committees and National Competent Authorities

Representatives from regulatory agencies, HTA bodies and healthcare institutions

Members of non-profit organisations and collaborative groups with CCT related initiatives

Members of Industry/Academic Associations
Organising Committee
Thomas Josse (KUL)                                               

Frank Bretz (EFPIA-Novartis)

Olga Kholmanskikh (CTFG-FAMHP)                 

Solange Corriol-Rohou (EFPIA-AstraZeneca)

Stephane Lejeune (EORTC)                                 

Lucia D'Apote (EFPIA-Amgen)

James McCormick  (ACRO-PPD)                          

Christine Fletcher (EFPIA-GSK)

Pierre Omnes (ACRO-Syneoshealth)                  

Mireille Muller (EFPIA-Novartis)

Ruediger Pankow (ACRO-Parexel)                     

Emmanuel Pham (EFPIA)

Claas Roehl (NF Patients United)                       

Nick Sykes (EFPIA-Pfizer)

Anja Schiel (EMA SAWP, NoMA)                        

Andreea Iordache (EFPIA Secretariat)

Elke Stahl (CTFG-BfArM)                                      

Silvia Garcia (EFPIA Secretariat)