The Animal Welfare Body - a catalyst for progress
A meeting convened by EFPIA and the RSPCA, with input from FELASA and EFAT
The Animal Welfare Body - a catalyst for progress
Virtual Event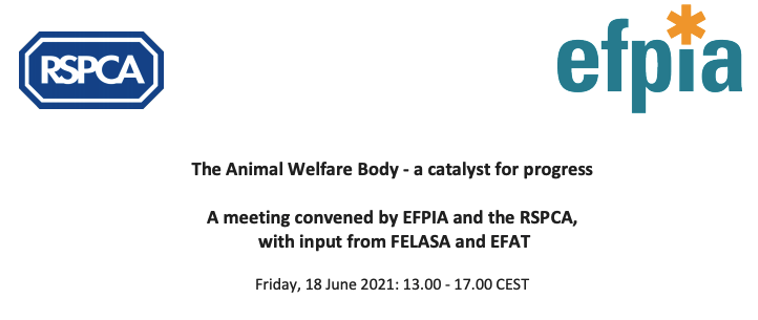 This webinar aims to:
Help advance and harmonise current good practice among Animal Welfare Bodies (AWBs);
Identify ways of addressing the outstanding issues that are preventing some AWBs from effectively delivering their core and wider tasks;
Enable participants to network and share experiences and good practice;
Achieve greater openness regarding how AWBs operate and the Directive is implemented.
The webinar is open to interested participants who are involved in the activities and functioning of the AWB, we specifically welcome active AWB members to participate and engage in the discussions.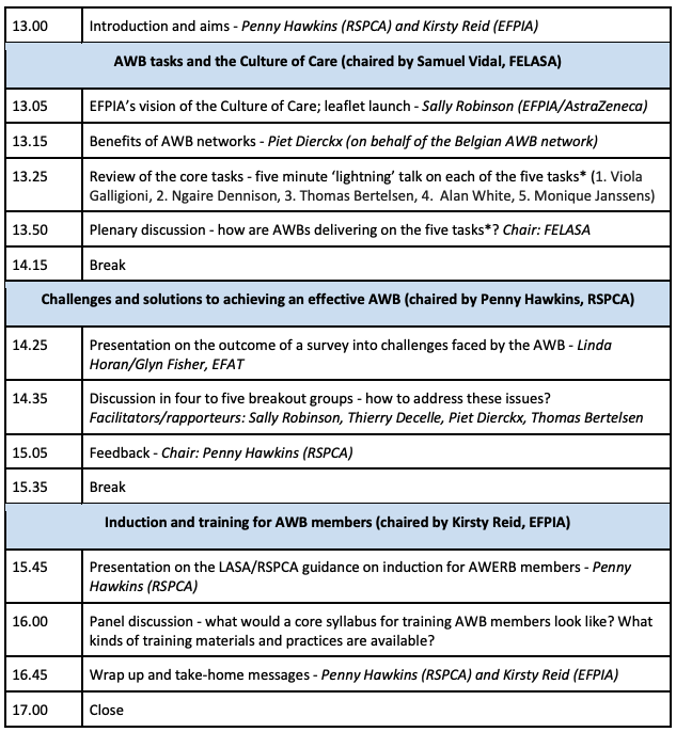 *The five key AWB tasks:
Advise the staff dealing with animals on matters related to the welfare of animals, in relation to their acquisition, accommodation, care and use;
Advise the staff on the application of the requirement of the 3Rs, and keep them informed of technical and scientific developments concerning the application of those requirements;
Establish and review internal operational processes as regards monitoring, reporting and follow- up in relation to the welfare of animals housed or used in the Establishment;
Follow the development and outcome of projects, taking into account the effect on the animals used, and identify and advise as regards elements that further contribute to the 3Rs; and
Advise on rehoming schemes, including the appropriate socialisation of the animals to be rehomed.
Information on how to register
If you are interested in participating please send an email to tatiana.kirpitchenok@efpia.eu and include:
Subject matter of email: RSPCA/EFPIA AWB webinar
Your Name:
Contact email:
Establishment:
Job Title:
Please indicate if you sit on an animal welfare body
Further information and agenda:
In collaboration with: